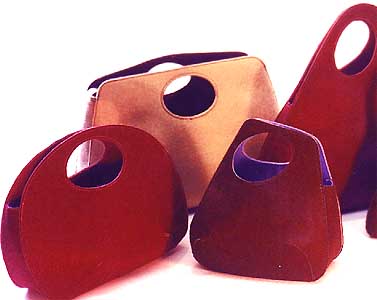 MADS & MADS
Objects in Space collection:
won the accessory design
award at Gen Art Styles 2001
The collection consists of six handbags and two cosmetic bags. They are made entirely in felt utilizing the nature of the material to its full potential. The felt is cut and pleated in a way that lends personality to each bag. The use of color is very important. The interior color is bonded to the exterior color so that both colors are visible at the raw edge and pleating.

This collection is just one of three that Mads & Mads will be showcasing for Fall 2001. The other collections are retro inspired and focus on gaining the attention of the consumer with an appreciation for vintage detailing. The fabrications are corduroy cut on the bias with leather detailing and tweed with leather detailing.


About Mads & Mads
Mads & Mads Danish Design Group is dedicated to innovative design with an emphasis on form, function, and simplicity. Mads Ehrhardt and Mads Kornerup are the founders of the company who saw an opportunity in the marketplace two years ago for pashmina that has since translated into handbags. Mads Ehrhardt remains true to his Danish background in terms of design which reflects our mission.
Mads Ehrhardt recruited the talents of Gretchen Hambly directly from FITs Accessories Design program. He connected immediately with her appreciation of architectural elements and her ability to translate them into visionary design. Her passion for tabletop forms led to the realization of the Objects in Space Collection, pieces that were a finalist in the Gen Art International Styles 2001 competition. Mads & Mads strong fall 2001 collections are a testament to the well matched-pair.


For more information please contact Mads & Mads 212.941.6482 or fax 212.941.8230