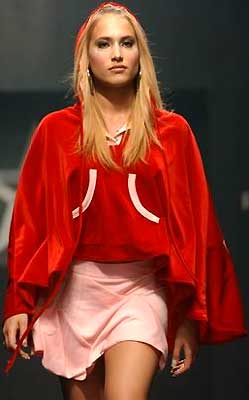 THE FASHION WEEK OVER IN MOSCOW
The Russian Fashion Week for the season of Autumn/Winter 2003/2004 culminated in Moscow with the show of designer Andrey Sharov. Andrey Sharov, one of the most famous fashion designers in Russia, gathered almost every celebrity in the capital to witness his show – TV personalities, actors, musicians and journalists. Prominent model Christina Semenovskaya was among the guests.
The Russian Fashion Week was held from April 8 to 14 in the Russian Academy of Fine Arts and was supported by Pantene Pro-V. The 6 days of the Week saw 30 collections by the leading designers of Russia, Ukraine, Georgia, Lithuania, Belgium and Spain. "We invited the best designers from Russia and CIS to show their collections at the best runways of Moscow", says Alexander Shumsky, RFW producer and CEO of Artefact Agency. "We have started regular seasons' shows in Moscow just few years ago, and we do a lot of work at different regional fashion shows looking for the most interesting and most professional designers of prêt-à-porter clothes".
The buyers and journalists present at the RFW paid special attention to the collections of Masha Tsigal (Russia) and Zoé&James (Belgium), both brands coming out with their vision of "sports glamour". Lithuanian designers A&V and Ramune Piekautaite had the stable success. The clothes by the latter are only coming to the Russian market while being widely presented in European and US boutiques. All major national TV channels, newspapers and magazines, covered the Russian Fashion Week – there were some 250 reporters accredited for the Week. Dozens of Russian movie, TV and music stars walked the RFW's runways as models. For 6 days, the guests' cars totally jammed the Moscow historic center where the shows were held.
The next Russian Fashion Week for the season of Spring/Summer 2004 is to take place in Moscow from October 24 to November 5, 2003.

Additional information: Artefact Agency, Tel: +7 (095) 232­1477/1478, Fax: +7 (095) 209­2696, E­mail: info@artefact.ru
foto: Masha Tsigal