BEACH STYLE
spring/summer 2010
fashion by Bruno Banani, Napapijri, Lacoste
beauty by Lancaster, Lab Series
lifestyle by Sony Vaio
Men in vibrating colors!
"Electric is the love" sings Bobby Womack on the track 'Stylo' from Gorillaz' new album 'Plastic Beach' (released in March 2010).
Vibrating neon-colors with plastic appeal are back in fashion and lifestyle. One of the favorite new colors is the fruity apple green which looks like 'electrified'.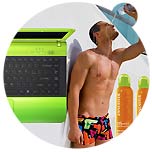 fig.: original clockwise, beginning with the man in the...
Swim short 'Hands Up' in expressive, eye-catching colors by the German label Bruno Banani, SS2010. The short is showing water pistols. One of the main colors of Bruno Banani's collection SS2010 is fruity green in neon-style.
'Sun Sport' sun protection series by Lancaster, SS2010. Lancaster has launched the protective series in 2009. In March 2010, Lancaster extended the line by an additional product, the Anti-Reflections Creme Sun Sport SPF 50, especially developed for extreme situations when the sun is reflected by snow, ice or water. Snow can reflect the sun rays to 80 percent, water to 10%.
Windbreaker 'Adelii' in tomato red (also available in apple green) by the Swiss headquartered outdoor label Napapijri, SS2010.
Colorful striped polo shirt by the French label Lacoste, SS2010.
Max LS Age-Less Face Cream for men by Lab Series, since March 2010 available. The cream is built upon the knowledge of genetics and the lifetime of skin cells.
Lifestyle Notebook (14', 1366x768 pixels for watching movies in HD-quality, optimized with a quick web browser that works without activating the operating system) in neon-green called 'Carribean Green' from the new Sony Vaio E-Series, SS2010. Sony releases the notebook in various vibrating colors such as a bold pink or aqua blue. The design concept lies partly in the hands of the ones who buy it: color, pattern or the keyboard skin can be chosen at 'Sony Style'. Additionally, notebook addicted can dress up with a bag and mouse which complement the look.

Source: Original article with images on http://www.fashionoffice.org/collections/2010/beachstyle3-2010.htm.


more fashion.at/mobile>
News from
January - March 2010
December 2009 - January 2010
December 2009
November - December 2009
September - October 2009
July - August 2009
May - July 2009
April - May 2009
Jan - March 2009
October - December 2008


subscribe
terms
imprint
Sawetz (C) 2008/9/10