CITY STYLE
spring/summer 2010
fashion by St. Emile, Marc by Marc Jacobs, Diesel
beauty by Paul Mitchell
From deconstructing male style to the boyfriend look
Society changes - and the language of fashion too. In the last half century, the fashion press reported from ideas of designers to deconstruct male style such as Yves Saint Laurent who has revolutionized modern women's wear in the 60ies by defining the new wardrobe classics male inspired shirt, trousers, and blazer. At the same time, 'cultural gender' premiered as a new theme in society.
In times of Post-Feminism and after people in most countries of the Western world have learned to think more than two sexes (for some of the others are two too much), the term 'deconstructed male style' seems to come out of fashion.
Since around two years, especially jeans-designers have pioneered the streets with the idea of the 'boyfriend look'.
Now, the term 'boyfriend look' can be found for spring/summer 2010 even in the look books of higher fashion.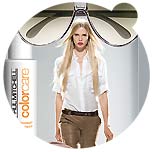 fig.: original beginning with the model in...
White blouse, tobacco colored trousers with belt and bag by St. Emile, SS2010. The German label is inspired for SS2010 by three ideas: 'Simply meets Best - opposites attract' such as the boyfriend blouse and trousers in a very feminine style, 'Soft and Fancy' for special washings and material laminations like glossy effects, and 'Romantic Colors between heaven and earth' like oxide, chocolate, champagne, or tobacco.
MMJ 135/S aviator-sunglasses 'Marc by Marc Jacobs' with double bridge from the US designer Marc Jacobs, SS2010.
'80s Flash Back' sling-sandals in metallic leather with sparkling effect at the heel by the Italian denim label Diesel, SS2010.
Travel-size 100ml Color Protect Daily Shampoo by Paul Mitchell, seen in SS2010. The US label Paul Mitchell has developed the Color Protect- line especially for summer when the sun rays are more intense than in winter. Paul Mitchell names an example: in Germany, the UV-pollution in September is 300% higher than during December and 100% lower than in July.

Source: Original article with images on http://www.beautyme.com/hair/2010/citystyle4-2010.htm.


more fashion.at/mobile>
News from
January - March 2010
December 2009 - January 2010
December 2009
November - December 2009
September - October 2009
July - August 2009
May - July 2009
April - May 2009
Jan - March 2009
October - December 2008


subscribe
terms
imprint
Sawetz (C) 2008/9/10