MEN STYLE
spring/summer 2010
fashion by Ray Ban, Falke, Alex and Chloe/seen at Kabiri, Vaude, Timberland
beauty by John Varvatos, Paul Mitchell
Exclusive travel
"Journey set sail was to leave
...
Far above all earthly goals
A pledge for creation's soul"

sings Bajka, the Indian born, in various countries grown up singer who studied music in Prague, on 'Days To Come' by the British musician, producer and DJ Bonobo. Bonobo has just released the new album 'Black Sands' (March 2010) with the singer Andreya Triana whose voice is as elegant as the one of Bajka.
By searching for music that could express the outfit on this page best, Bonobo's relaxed downtempo with its latent freedom in the music's sounds that open the room for echoing through space, and texts that invite to the meta-level for traveling with the soul and spirit...

...sometimes fashion is like music; you have to feel it.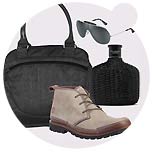 fig.: original beginning with the...
Ray Ban 3416Q sunglasses, seen in SS2010. Photo: (C) Franco Pizzochero. The glasses on this page are a new interpretation of the classical aviator-model from 1937, which was designed especially for pilots of the US army to 'ban' the sun 'ray's. Later, the Ray Ban aviator was adopted by the unisex fashion.
Men's knitwear by Falke, SS2010. Falke entitles the collection of cooling knitwear made of light yarns 'A journey along the Riviera'. The pieces in understatement style are designed for the comfortable city look - for the job as well as for leisure. Mediterranean lifestyle, sailing, minimal, racy, relaxed... are the keywords of the collection.
Three keys above ones heart is always a good idea! Triple Key Necklace (brass keys dipped in tar on an oxidised silver chain) by Alex and Chloe, seen at kabiri.co.uk, SS2010. On the website of Alex and Chloe, the label announced on 18 Feb 2010 the Human Rights Campaign t-shirt collection 'Painted Heart' to thematize lesbian, gay, bisexual and transgender equality.
'Artisan Black' men's fragrance by designer John Varvatos. The oriental-woody scent with Mediterranean breeze comes in a bottle of glass, clothed in knitted leather and cool chrome, designed by packaging designer Doug Lloyd from LLOYD+CO. John Varvatos has created the fragrance for summer 2010 (launch June, limited edition).

Tea Tree firm hold gel by Paul Mitchell, since Nov 2009.
'Petronella' bag made of recycled plastic pet bottles by Vaude, SS2010. In 2009, Vaude started the 'Recycled'-collection with seven bags and two backpacks. The material made of 100 percent recycled PET bottles feels like real fabric with soft touch. For one bag, Vaude uses fibres from around 12 bottles (55%) and mixes them with polyester fibres (45%). The volume of the Petronella bag on this page is expandable.
Boots 'Chukka' from the 'Original Earthkeepers'-series by Timberland, SS2010. The shoes from the series are made of recycled and ecological materials.

Source: Original article with images on http://www.beautyme.com/hair/2010/earthstyle4-2010.htm.


more fashion.at/mobile>
News from
January - March 2010
December 2009 - January 2010
December 2009
November - December 2009
September - October 2009
July - August 2009
May - July 2009
April - May 2009
Jan - March 2009
October - December 2008


subscribe
terms
imprint
Sawetz (C) 2008/9/10