DONNA:
FEMINIST AVANT-GARDE OF THE 1970s
from the art collection
'Sammlung Verbund, Vienna'

19 February – 16 May 2010
Galleria Nazionale d'Arte Moderna, Rome
Pioneers of new images
Until May 2010, the exhibition 'Donna', co-curated by Italy and Austria, presents 200 works of 17 artists from the feminist movement of the 70s, which are collected since 2004 by the Sammlung Verbund (Verbund is Austria's largest electricity producer) at the Galleria nazionale d'arte moderna in Rome.
The self-ironical works by Birgit Jürgenssen (a monograph about the Austrian was published recently by the Sammlung Verbund in November 2009), the female stereotypes by US artist Cindy Sherman (Sammlung Verbund is currently working on the Catalogue Raisonné of Cindy Sherman's early works in close cooperation with the artist), or Nil Yalter from Turkey who focuses on migration and the effects on the cultural identity of females (Nil Yalter's art can be seen in Italy for the first time) are part of this exhibition.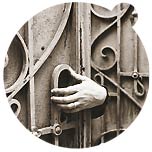 fig.: Helena Almeida, Work- 32 (Entreda 1), 1977; (c) Helena Almeida / Sammlung Verbund, Wien. The Portuguese artist's photographs have an autobiographical aspect by showing parts of Almeida' body - often hands or feet. The female artist as creator of meaning becomes in Helena Almeida's work obvious.
Video: Documentary 'Helena Almeida - Biennale Serie 2005 Lisbon'. The work of the photographer and painter Almeida was chosen for the Portuguese pavilion at the Biennale di Venezia 2005.


"Art history clearly shows: the image of woman is a man's image of woman. This iconography, handed down for centuries, has been radically deconstructed by the Feminist Avant-Garde in the 1970s for the first time. In their work these 17 artists create a new image of women. These works often discuss their own body as well as themselves in their object-subject relations and fathoms the prospect of self-determined feminine identities." states the Sammlung Verbund.

Source: Original article with image and video on http://www.fashionoffice.org/culture/2010/feminist3-2010.htm.


more fashion.at/mobile>
News from
January - March 2010
December 2009 - January 2010
December 2009
November - December 2009
September - October 2009
July - August 2009
May - July 2009
April - May 2009
Jan - March 2009
October - December 2008


subscribe
terms
imprint
Sawetz (C) 2008/9/10