MEN STYLE
spring/summer 2010
fall/winter 2010/11
fashion by Bogner, Canada Goose, Alexander McQueen Puma, Persol, Manuel Bozzi
beauty by Sebastian
Men's mental and physical power
The new collections for spring/summer 2010 show the rebellious wild ones from the 50s and 60s in new interpretations. Changing the establishment or the older generation had been themes of the 50/60s. Now, men are challenged by climate change; and consequently by a world without boundaries. They have gained the wisdom from the best athletes: you have to balance the physical and mental power.
Video: The movie for the Bogner Man SS2010 collection was shot in the Desert of Nevada (US). On the website bogner.com, fashion videos to the several lines are published.
Behind the German label Bogner stands the creative head, former ski athlete Willy Bogner who was in the 60ies a member of the German Olympic team. Willy Bogner and his wife Sonia Bogner are leading the company. Additionally, Willy Bogner directs and produces films such as the sport and nature movie 'Fire and Ice' (1986). 'Fire and Ice' is even the name of one of Bogner's lines. The shirt on this page is from the 'Bogner Man' line which is presented in the lookbook SS2010 with the touch of the rebellious wild ones from the 50/60ies such as you can see on the video.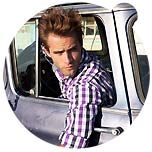 fig.: original beginning with the man in the...
Black/pink/white checked classical shirt by Bogner, SS2010. Photo: (C) Willy Bogner.
Tremblant Pullover made of softshell by Canada Goose, FW 2010/11. Since more than 50 years, the Canadian label produces outdoor wear for extreme, arctic situations. Since 2009, Canada Goose cooperates with polarbearsinternational.org to protect polar bears which are endangered by the climate change.
Gel Forte by Sebastian, seen in SS2010. Sebastian was founded in the hippie-hair- and at the beginning of the glam-disco-era in the 70s in California. In the last years, the growing demands of men have caused many new products especially made for men. But hair styling is not new for men; to style the hair with hair gel - like on this page - is probably the most common hair styling men are using since around 100 years.
AMQ Scarred Street Mid by Alexander McQueen Puma, SS2010. Photo: (C) Ian Nolan 2009. All moral rights reserved.
British designer Alexander McQueen elaborated for the German label Puma the theme 'Power'. In this collection, power means the physical as well as mental power. Alexander McQueen was especially inspired by martial arts.
Sunglasses by the Italian label Persol, SS2010. Photo: (C) Franco Pizzochero.
'Volume Pendant' made of sterling silver by the Italian designer Manuel Bozzi, SS2010. The volume pendant can really be applied to any electric guitar to regulate its volume. For the designer, the Volume Pendant has a deep symbolic meaning: it represents the volume of the soul, is the expression of internal "sounds", of the feelings, personal emotions, love moods.

Manuel Bozzi: "[...] it belong from the idea 'of being able to regulate the volume of our internal world.' It is a strong enough idea...it sounds good like my rock".

Source: Original article with video and images on http://www.beautyme.com/hair/2010/menstyle4-2010.htm.


more fashion.at/mobile>
News from
January - March 2010
December 2009 - January 2010
December 2009
November - December 2009
September - October 2009
July - August 2009
May - July 2009
April - May 2009
Jan - March 2009
October - December 2008


subscribe
terms
imprint
Sawetz (C) 2008/9/10