PALMERS
spring/summer 2010
Karin Sawetz is journalist, media researcher and fashion scientist (Mag. Dr. phil.). sawetz.com

Vienna Insight by Fashionoffice publisher Karin Sawetz
Changes of the female body and design
On 25 March 2010, the Austrian underwear label Palmers invited to the Hotel Triest on occasion of a fashion-talk with the Italian Rosanna Ansaloni who designs the dessous- and beachwear line 'Selezione'.
Before the fashion-talk started, the journalists looked through the collections of Palmers, Lejaby, Rasurel, Elixir, and - most interesting on this evening, the 'Selezione'-line by Rosanna Ansaloni. Her pieces are designed in a practical style which is typical for Italians and have the romantic expression that make think of dreamy Venice. There was one special bikini that fascinated me the most: it was made of a pastel-colored fabric embroidered with pearls in Renaissance style. It looks as just found at a treasure dive in the open sea - yes, probably before the coasts of Venice.
Soon after the fashion-talk started, Rosanna Ansaloni and the journalists focused on the body of women. Has the body changed, what has changed, and why has the body changed?
Rosanna Ansaloni reported that the woman's body became in the last years more female; especially the breasts became bigger. One journalist remarked that this could be plastic surgery. Another one thought that this is caused by the hormones in meat. Ansaloni referred to a study which shows that eating habits (the ones who eat meat are endangered to get more hormones than the ones who prefer fish and vegetables) could have influenced the changes of the body. Young women are taller and have a more female figure. The European clothing sizes had been already 'up'-dated. The ones who wear now 36 haven't lost weight!
Has the 'new' body changed the design, was another question to Rosanna Ansaloni. The designer said that one of the main challenges is that young women with bigger breasts don't want old-fashioned dessous and beachwear but prefer fashionable pieces - designed originally for smaller sizes, that are supporting the body like the 'big' ones.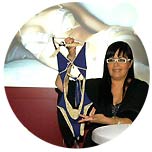 fig.: Palmers fashion-talk with Italian designer Rosanna Ansaloni on 25 March 2010 at the Hotel Triest in Vienna. It was really very interesting, but the longer Rosanna Ansaloni has spoken in Italian, the more guests laughed about her jokes before the translation was delivered. Viennese journalists understand Italian! Photo: Markus Geiger.
On the image, you can see Rosanna Ansaloni holding a one-piece swimsuit for pregnant women. She said she was inspired by fascinating women like actress Monica Bellucci, born 1964, who is awaiting for spring 2010 a child. The swimsuit is described in the press information with the following words: "The long triangular cups with an under-bust band that continues on both sides, connecting to the brief bottoms, supporting and sculpting, while the lateral bands softly wrap the tummy, guaranteeing a sturdy garment and flattering compact fit."

Source: Original article with image on http://www.fashionoffice.org/collections/2010/palmers3-2010.htm.


more fashion.at/mobile>
News from
January - March 2010
December 2009 - January 2010
December 2009
November - December 2009
September - October 2009
July - August 2009
May - July 2009
April - May 2009
Jan - March 2009
October - December 2008


subscribe
terms
imprint
Sawetz (C) 2008/9/10