URBAN SPORT STYLE
spring/summer 2010
fall/winter 2010/11
fashion by Diesel, Capo, Wolford, Intimissimi, Replay, Daniela De Marchi, Alexander McQueen for Puma
lifestyle by Canon
beauty by Kilian
The idea of lost and found
Store managers wouldn't have advised this outfit constellation (images right) in 2009, but in 2010, the uncommon mix of pieces applies the desired snobby touch to the down-dressing look of a fashionista who has tried already everything and usually strikes back any style-critic with the words: "Who says that this outfit does not look good when I am inside?"

However; it's not the snobbishness of fashionistas that makes this mix so fashionable and contemporary: it's the lost and found appeal, the consciousness that old pieces are the ones that grow on somebody's heart.
The essentials therefore are: vintage pieces with a glance, colors that don't follow common mix-traditions like combining two completely different greens or different metals, and re-designed sports classics.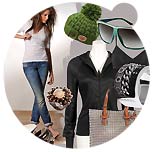 fig.: original clockwise, beginning with the woman wearing a...
White t-shirt and jeans by Diesel, SS2010. 'Opposites attract' is the title of Diesel's women's SS2010 collection.
Green woollen cap in forest green by Capo, fall/winter 2010/11. The designers at the Austrian cap producer are inspired by the 'Bregenzerwald' which lies in the mountains of Western Austria. It is intended that the cap bring the forest with a sportive style into the city. For the forest green knit cap with a traditional wooden button and the logo of the label (approximately 100 years old) is in hand-knitted style of the early 20th century.
Green sunglasses with metallic decoration by Diesel, SS2010.
Canon Ixus 130 (14,1 megapixels) for photos and HD-movies (1280 x 720 pixels) comes in a very slim case and various colors like on the image above in metallic orange, presented in February 2010. The camera has a new navigation tool: the 'Smart Shuffle' which shows four additional images similar to the one currently viewed.
Sportive basic underwear by Intimissimi, SS2010.
Metallic wristband by Diesel, SS2010.
Lounge Wear Cardigan by Wolford, seen in February 2010 on www.wolford.com.
Ring by the Milan based jewellery designer Daniela De Marchi, 2010. More information about the designer and her creative approach to nature and jewellery is included into the article 'Style for a natural beach'.
Metallic shopping bag by Replay, SS2010.
Perfume collection 'Kilian Discovery Set' for travelers, launch February 2010, available by the end of March, off- and online (www.bykilian.com). In 2007, the perfumery label 'Kilian' premiered with the first perfumes for the 'L'Oeuvre Noire', 'The Black Masterpiece'. The fragrances are created for men and women upon a sexy story; 'Love', 'Liaisons Dangereuses', or 'Cruel Intentions', only to name three of the 8 scents, atomize what's intended. Article about L'Oeuvre Noire by Kilian www.fashion.at/mobile/2008/kilian11-2008.php.
AMQ Elevate shoes from the Alexander McQueen PUMA SS2010 collection. The shoe is inspired by sports fashion, especially martial arts. The black stripes are symbolizing a fighter's hand wraps.

Source: Original article with images on http://www.fashionoffice.org/collections/2010/urbansportstyle2-2010.htm.


more fashion.at/mobile>
News from
December 2009
November - December 2009
September - October 2009
July - August 2009
May - July 2009
April - May 2009
Jan - March 2009
October - December 2008


subscribe
terms
imprint
Sawetz (C) 2008/9/10