WOMEN STYLE
spring/summer 2010
fashion by Napapijri, Emporio Armani, Gant, Tkees
beauty by Marc Jacobs
Inspired by a man on a rocket
"Starting something, thought it could be fun; I started something, couldn't go wrong" sings Alison Goldfrapp in 'Rocket' from the new album 'Head First' (released in March 2010). The accompanying video is very amusing; especially the man who is bound on the rocket.

But it's the second video on her website, 'Caravan Girl' showing a woman skateboarding along a coast that has inspired the clothing-style on this page.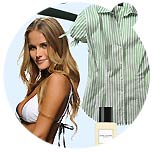 fig.: original beginning with the woman in the...
Bikini by the Swiss headquartered label Napapijri, SS2010. The outdoor label's philosophy is built upon 'traveling' and collecting knowledge on travels from 'pole to pole' to un-explored places on earth.

Un-explored places are everywhere; you only have to change your point of view.
'Sunkissed' sandals by US label Tkees, SS2010. The color concept of Tkees is following skin colors and the individuality of the wearer. The names of the lines are Liners, Foundations, Shadows, Glosses, or Creams.
Fashionoffice has received the fashion tip from the Austrian wholesaler roomwithaview.at who is collecting fashion items from the whole world for shops in Austria and Switzerland.
Men's sunglasses in rubber effect green by Emporio Armani, 2010.
'Positano Pastels' shirt by the US label Gant, SS2010. Photo: (C) Gant. For this collection, Gant was inspired by the Amalfi Coast in Italy (below Napoli) and the world of Jackie O. The designers created pieces in 'understatement' style: 'understatement' means at the first view not very exciting, but with a sexy appeal that is long-lastingly. Gant's designers are gaining the effect through the tailoring that enhances the body figure.
'Splash Collection' of three fragrances by US designer Marc Jacobs, SS2010. While Marc Jacobs enjoyed the delicious things he looked at a patisserie in Paris, he created the idea of the 'Splash Collection': green apples, pomegranate, biscotti.

Source: Original article with images on http://www.beautyme.com/fragrance/2010/womenstyle4-2010.htm.


more fashion.at/mobile>
News fromInspired by a man on a rocket; Women Style SS2010
January - March 2010
December 2009 - January 2010
December 2009
November - December 2009
September - October 2009
July - August 2009
May - July 2009
April - May 2009
Jan - March 2009
October - December 2008


subscribe
terms
imprint
Sawetz (C) 2008/9/10