ANDREW MAJTENYI
fall/winter 2011/12

Old books and sport?

The Toronto/London based designer Andrew Majtenyi created for fall/winter 2011/12 a coincidence of two themes that appear very rarely together: old books and sport, realised on the most interesting parts of his new 40 pieces collection.
The female figure enhancing prints on silk and wool dresses, tops and skirts are inspired by early 20th century bookbinding, seen by the designer at the corridors of the British Library.
Andrew Majtenyi combined for the evening and elegant day clothes 1930/40s style with modern elements that remember with minimalistic, figure-dynamic cuts 60s futuristic fashion and 80s body centered silhouettes. Andrew Majtenyi names the integration of sportswear elements - such as long gowns that are new interpretations of comfortable tight-fitting t-shirts, 'sportification' of classical fashion.
Andrew Majtenyi will present the new FW2011/12 women's wear collection with the title 'by the book' at the On|Off days during the fashion weeks in London (18-20 Feb) and Paris (5-9 March).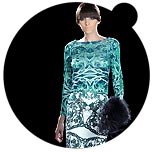 fig. original left: The long 'Yoke Dress' shows a gold print on black that enhances the female figure. right: Top with bookbinding inspired print in emerald color variations on silk jersey combined with a printed tailored skirt. Photo: (C) 2011 Andrew Majtenyi.
Source: Original article with images on http://www.fashionoffice.org/collections/2011/andrewmajtenyi2-2011.htm.


more fashion.at/mobile>
News from
February 2011
January 2011
December 2010
November 2010
October 2010
September 2010
August 2010
July 2010


subscribe
terms
imprint
Sawetz (C) 2008/9/10