WOMEN STYLE
spring/summer 2011

fashion by Kamik, Bench
lifestyle by Starbucks, Tassimo, Bosch
beauty by MAC Cosmetics
watch by Uglydoll
Comics in fashion

Explosive colors mixed with bold writings on shoes and lifestyle accessories that look like sketched by storytellers transfer the fantastic world of comics into real life. Kabooohm!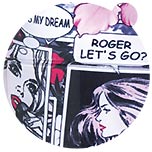 fig. original:
Rain boot 'Betty' with comic strip by Kamik, SS2011.
Lipstick 'Spitfire Bright' from the M·A·C Wonder Woman-collection in creamy satin magenta, mascara 'Opulash' available in colors like Victorious purple, Army of Amazons green, or black; and navy blue nail lacquer 'Spirit of Truth', eye shadow "Defiance'. The limited edition 'Wonder Woman' by MAC Cosmetics is in shops since March 2011.
The collection is inspired by the comic character Wonder Woman, which appeared in the famous 1970s TV series about a woman who can transform herself into a superhero. Wonder Woman (created already in 1940) is one of the feminist icons that reflect the revolutionary emancipation movements during the 70s. The 1970s are counted to one of the most important decades of feminism. In that time, Wonder Woman has attributed power to femininity like it was never thought before.
Tassimo Jacobs Latte Macchiato in a coffee machine in glamour red by Bosch, seen in March 2011. Photo: Christopher Tech Photographie. (C) Kraft Foods.
3 Cake Pops (mini cakes) by Starbucks, launched in 2011 on occasion of Starbucks' 40th anniversary together with other new products. Photo: (C) Starbucks Coffee Company. All rights reserved.
Retro watch 'Babo' by Uglydoll, seen in March 2011.
Illustrated boardshort 'Anchor' and bikini 'Pirate' by Bench, SS2011.

Source: Original article with images on http://www.fashionoffice.org/collections/2011/comicstyle3-2011.htm.


more fashion.at/mobile>
News from
February 2011
January 2011
December 2010
November 2010
October 2010
September 2010
August 2010
July 2010


subscribe
terms
imprint
Sawetz (C) 2008/9/10