DRIVER STYLE
spring/summer 2011

fashion by Roeckl, Jockey
shoes by Geox & Red Bull Racing Team
beauty by Nickel
sunglasses by Alexander McQueen

When motor sport addicts become interested in politics
In mid-February 2011, motor sport fans watch political news to find out how probable it is that reform movements will happen peacefully. This adds a political note to the Formula 1, which hasn't changed its plans and starts on 11th March in Bahrain.
On 19 February, Fashionoffice followed this positive signal as well as the current meaning of some political reporters and collected pieces for addicted drivers.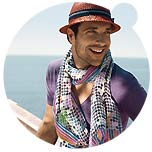 fig. original:
Saddle-brown hat, scarf with dots and stripes in various colors on white, red-white gloves by Roeckl, SS2011.
The designers of Roeckl had been inspired by nature, technology and modern architecture. The straw hat references to the theme 'vegetation' and the idea 'let nature happen'. On other pieces, Roeckl used for the expression of 'vegetation' elements like washed out and sun-bleached techniques. The scarf with its pixel print on transparent white fabric remembers glass and mirror aesthetics of modern architecture with its interactive screen walls.

Sunglasses 'Immagine 12439' with small skulls (left and right) on the frame by Alexander McQueen, SS2011.
Bag in denim with an application that looks like a car registration number by Jockey, SS2011. Photo: (C) Jockey. (In 1876, the US company was founded.)
'Super Clean' body scrub in a packaging that looks like a can filled with oil for cars by Nickel, seen in February 2011.
Swim-shorts in red from the 'USA Originals'-line by Jockey, SS2011. Photo: (C) Jockey. The bright colors of the line are inspired by the American flag.
Sportshoe 'Snake' from the 'Formula 1' collection by Geox on occasion of the collaboration with the Red Bull Racing Team, premiered on 1st February 2011 in Valencia (ES). World champion Sebastian Vettel and Mark Webber will wear next season special footwear by the Italian label which is known for its breathable soles; additionally, Geox has created an edition of Red Bull (2 times Formula 1 champion in 2010 - construction and driver) pieces for women, men, and kids; comes into shops in mid-March 2011.

Source: Original article with images on http://www.fashionoffice.org/motor/2011/driverstyle2-2011.htm.


more fashion.at/mobile>
News from
February 2011
January 2011
December 2010
November 2010
October 2010
September 2010
August 2010
July 2010


subscribe
terms
imprint
Sawetz (C) 2008/9/10