FASHIONOFFICE INSIGHT by publisher Karin Sawetz April 2011
Karin Sawetz is journalist, media researcher and fashion scientist (Mag. Dr. phil.).

Happy Easter!
The days from 18 to 26 April 2011 are used by many for traveling - to explore new or revisit beloved cities, relax body and mind in nature on mountains or at the sea, or to celebrate with friends and family Earth Day (22 April), Easter Sunday (24 April)...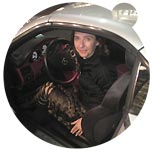 As I have to be 'available', I won't leave Vienna for these days - but I will enjoy the announced fine weather for sport and will work on interesting new contents for Fashionoffice!
This great time is made for recreation! I wish all users Happy Easter!
fig.: The picture was captured on 12 April 2011 after the opening party of the exhibition 'Russell Young - Diamond Dust' showing crystallized painted screen prints of photos of Marilyn Monroe, Sophia Loren, Coco Chanel... at the Galerie Gerald Hartinger Fine Arts in Vienna.
Source: Original article with image on http://www.fashionoffice.org/survey/2011/easter4-2011.htm .


more fashion.at/mobile>
News from
March 2011
February 2011
January 2011
December 2010
November 2010
October 2010
September 2010
August 2010
July 2010


subscribe
terms
imprint
Sawetz (C) 2008/9/10