For Japan
spring 2011

Fishes and cranes are symbols of strength
At the end of March 2011, various initiatives around the world have already started and collect money for projects and organisations such as Red Cross Japan.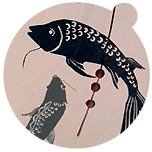 fig. original: The proceeds from the sales of 'A bag for Japan' will be donated to the Red Cross Japan, seen at Garrendenny Lane Interiors.
The cotton shopping bag with the name 'Wish We Were There' shows 3 Koi fishes (symbols for strength, bravery and good fortune). It is designed and made by fabrics and wallpaper design label Yukari Sweeney Design London. Yukari Sweeney mixes in her designs English tradition and Japanese style.
The label posts on its website that they are working at the time on one thousand paper cranes: "...because a crane, in japanese mythos, is said to live for 1000 years, and represents the soul of a great warrior. this symbol of strength and well wishing is something we would love to make and send to the people of japan..." yukarisweeney-design.com/posts

Source: Original article with image on http://www.fashionoffice.org/collections/2011/forjapan3-2011.htm.


more fashion.at/mobile>
News from
March 2011
February 2011
January 2011
December 2010
November 2010
October 2010
September 2010
August 2010
July 2010


subscribe
terms
imprint
Sawetz (C) 2008/9/10