FIAT 500 by GUCCI
premiered on 23 February 2011 in Milan (IT)

Milan fashion and a car
On 23 February 2011, on the opening day of the Milan Fashion Week, the Fiat 500 was presented in a new interpretation by the Italian label Gucci, which celebrates in 2011 its 90th anniversary. The first Fiat 500 was launched on 4 July 1957 and appeared in the very successful retro-design for the first time in 2007.
Gucci Creative Director Frida Giannini says about the style travel through the times: "In the 50s the Fiat 500 created a style revolution when it first hit the road. It quickly become the must-have car of its time. Travelling in style has also been at the heart of Gucci ever since Guccio Gucci founded his company as a producer of leather trunks, suitcases and handbags in 1921."
The car's surface (in glossy white and black with corresponding interior) was designed by Frida Giannini in partnership with Fiat's Centro Stile.
Gucci's signature green-red-green stripe runs along the car. Inside, it appears on the seats, on the gear shift, the key-cover, the carpets, and on the seatbelts.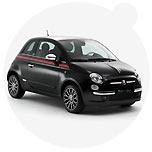 fig. original: Trousers and jackets in black and white from the accessories line of '500 by Gucci'. The fashion collection of leather goods, bombers, sunglasses, watch... comes into Gucci stores and www.gucci.com in April 2011.

The '500 by Gucci' will be available from 1 April to 30 June 2011 exclusively by pre-order on www.500bygucci.com. The commercial launch is announced in Europe for July, worldwide at the end of the year.

Source: Original article with images on http://www.fashionoffice.org/motor/2011/gucci2-2011.htm.


more fashion.at/mobile>
News from
February 2011
January 2011
December 2010
November 2010
October 2010
September 2010
August 2010
July 2010


subscribe
terms
imprint
Sawetz (C) 2008/9/10