HEIKE JARICK
fall/winter 2011/12

Fabrics inspired by cultures worldwide
German born, in New York based designer Heike Jarick, known for fabrics inspired by her global researches and her experimental tailoring with figure enhancing draperies, presents for fall/winter 2011/12 pieces like a hooded long jacket made from a brown fake fur that is woven in jacquard technique or 'The Prague Coat' on this page.
Question by Fashionoffice: "Why is it called the Prague Coat – after the Czech city?"
Heike Jarick, the designer graduated from St. Martins School of Design in London and founded her label in 2000: "All our pieces have names. In general they have women names and the coats are named after cities."
Fashionoffice: "Who has designed the zig-zag jacquard?"
Heike Jarick: "An Italian mill developed the zig-zag jacquard for us and it was designed by Heike Jarick."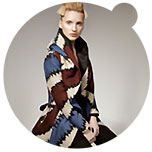 fig. original: 'The Prague coat' from the fall/winter 2011/12 collection by Heike Jarick is a hooded wrap coat with belt.

Source: Original article with image on http://www.fashionoffice.org/collections/2011/heikejarick3-2011.htm.


more fashion.at/mobile>
News from
March 2011
February 2011
January 2011
December 2010
November 2010
October 2010
September 2010
August 2010
July 2010


subscribe
terms
imprint
Sawetz (C) 2008/9/10