HONDA and RACHEL GALLEY
spring/summer 2011

Jewellery designer working with car parts
In early March 2011, Honda presented head-couture designed by British jewellery designer Rachel Galley from parts of the sporty hybrid coupé CR-Z such as the grille and added red, blue and green crystals in between - the colored stones stand for the 3-mode drive system: green for Econ, blue for Normal and red for sport.
Central Saint Martins graduate Rachel Galley has a very extraordinary approach to design: she focuses on a special time in one's life to make an original gift or spends a time of her own life with the object - such as with the Honda CR-Z. The project began in summer 2010, in October 2010 she began to drive the Honda CR-Z and got some parts for her headpiece designs, which had been finished by New Year's Eve.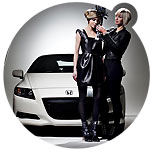 fig.: Rachel Galley with model wearing the headpiece made of parts of the Honda CR-Z, January 2011.
Rachel Galley, who has already created pieces for celebrities like Hollywood actress Juliette Lewis or pop star Lily Allen, manipulated the materials in a car workshop near her home. "As a child, my Dad, who was a civil engineer, was always encouraging me to help him solder pipe work so it felt very natural experimenting with parts of the CR-Z," Rachel Galley continues and tells about her experiences with materials from a car: "The car parts were much larger than the normal scale that I work in. Some of the parts were very hard to manipulate and cut. I was working on the tail light section to try and remove the hexagon light segments for days and still did not manage to retrieve all of the pieces! I was amazed by their complexity. There were lots of materials I do not normally work with: plastics, steel and Perspex. They are used for making cars because they are all very hard-wearing and resilient but this made it difficult for me to hand-cut."
Video, posted in March 2011: The video shows jewellery designer Rachel Galley during her work through the whole project, from the beginning in summer 2010, when she began to drive the car, her time in the car workshop, and at the photo studio for the shooting.

Source: Original article with image and video on http://www.fashionoffice.org/motor/2011/honda3-2011.htm.


more fashion.at/mobile>
News from
February 2011
January 2011
December 2010
November 2010
October 2010
September 2010
August 2010
July 2010


subscribe
terms
imprint
Sawetz (C) 2008/9/10