HUBER & LERNER
Wedding collection
spring/summer 2011

New media packed into old fashioned archive tool
...seen at the 'Wedding Journal' for the collection of remembrance material like classical photos or new media such as DVD presented by the Viennese papeterie Huber & Lerner. (Photo below.)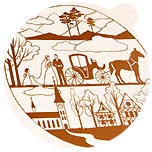 fig. original: Detail of the Wedding Journal by Huber & Lerner, presented in April 2011. Photo: (C) Huber & Lerner.
Since 1901, Huber & Lerner's print and paper products are used by prominent people like scientist Erwin Schrödinger, novelist and play writer Arthur Schnitzler, Emperor Franz Josef I. of Austria, Prince and Imam Karim Aga Khan... to name a few.
Today, the family business is in the hands of the fourth generation, the siblings Pia Fischer and Johannes Huber-Pock. The new generation has added a modern twist to the traditional style of the papeterie beginning with the architecture by Eichinger or Knechtl for the new shop in the Weihburggasse 4, continued by a range of design items and ideas for merging new and old media in elegant mode, such as the Wedding Journal.
fig. original: Historical wedding announcement by Huber & Lerner. Photo: (C) Huber & Lerner.

Source: Original article with images on http://www.fashionoffice.org/collections/2011/huberlerner4-2011.htm.


more fashion.at/mobile>
News from
March 2011
February 2011
January 2011
December 2010
November 2010
October 2010
September 2010
August 2010
July 2010


subscribe
terms
imprint
Sawetz (C) 2008/9/10