JEROEN VAN TUYL
fall/winter 2011/12
A design hacker and the concept of man's body
Jeroen van Tuyl presented the new men's wear fall/winter 2011/12 collection under the title 'Broken Glass' on 1 February 2011 at the one day fashion event 'Boutyq' in Amsterdam.
Rotterdam based designer Jeroen van Tuyl works on the re-invention of man's body by using urban-classics like rain coats or sweaters and modifies their common design slightly. In this collection, the 'design hack' strategy of Jeroen van Tuyl is realised by broken surfaces of armor alike pieces and by fabrics (jacquard) showing the 'Broken Glass' motif designed by Dutch textile designer Kiki Van Eijk.
The results of his studies of transforming the common view on the man's body are collections like 'Men Machine' (presented in 2006), 'Robiator' (SS2005), or 'Transformer' (SS2007).
For his exploration of the man's body, he is inspired by religious and philosophical themes like Native Americans' respect for nature and craftsmanship that was incorporated into the 'Manitou'-collection spring/summer 2010. One summer before in 2009, Jeroen van Tuyl has presented 'Tagore', the word references an Indian poet as well as Hinduism, and was interpreted into pants derived from sari and silky shirt drapings.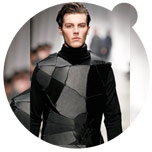 fig. original: Men's wear by Jeroen van Tuyl FW2011/12 presented on 1 February 2011 in Amsterdam. Photo: (C) Peter Stigter.
Video: Catwalk view on Jeroen van Tuyl FW2011/12 on 1 February 2011 at the one day event of the Dutch style platform 'Boutyq' (for the fourth time since summer 2009) in Amsterdam.

Source: Original article with image and video on http://www.confashion.com/fw2011/jeroenvantuyl3-2011.htm.


more fashion.at/mobile>
News from
March 2011
February 2011
January 2011
December 2010
November 2010
October 2010
September 2010
August 2010
July 2010


subscribe
terms
imprint
Sawetz (C) 2008/9/10