FORTUNE - water areas on 21 bottles
by Mark Braun + J. & L. Lobmeyr
12 - 17 April 2011
at 'Poetry Happens' in Milan (Italy)
Design, water, earth
In April 2011, German designer Mark Braun and the Austrian glassware producer Lobmeyr present the collaborative collection of bottles showing international water resources like the Amazon river together with a corresponding collection of Google Earth-postcards at the design event 'Poetry Happens' in Milan.
"The poetry of sustainability begins when design objects tend to achieve an archetypal long lasting quality....long runners in the market won't absorb new resources." poetry-happens.com
Lobmeyr was founded 1823 in Vienna and is known for collaborations started in the early 20th century with designers such as Josef Hoffmann and Adolf Loos. Since 2010, Lobmeyr collaborates with Berlin based product designer Mark Braun.
fig. original: Water carafe 'Amazon River' from the 'Fortune'-collection by Mark Braun and J. & L. Lobmeyr, 2011. Photo: Lobmeyr - Klaus Fritsch. The project 'Fortune' premiered at the Vienna Design Week 2010 with bottles representing 21 Austrian lakes, rivers and glaciers. From 12 to 17 April 2011, the international 'Fortune' edition of 21 water carafes will be presented for the first time to the public at 'Poetry Happens' in Milan.

fig. original: Postcard 'Rio Amazonas' designed by Anna Sartorius for the 'Fortune'-project by Mark Braun and J. & L. Lobmeyr, 2011. Photo: (C) 2011 DigitalGlobe. The cards with Google Earth images of lakes, glaciers, rivers provide on the backside additional information about the national - international name of the area and its space compared to the time for engraving the glass such as the card on this page: Rio Amazonas - Amazon River; 6448 km - time for engraving 300 min.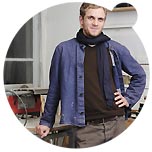 fig. original: Mark Braun, born 1975, has founded his own studio in 2006. The designer studied at the University of Art and Design Halle (ceramic - glassdesign department) in Germany, the Design Academy Eindhoven (NL),... and has received already international recognition such as a nomination for the 'Designers of the Future Award' at Design Miami Basel (2009) or the 'Design Plus Award' by 'ambiente' Messe Frankfurt (for Lingor, 2010).

Source: Original article with images on http://www.fashionoffice.org/collections/2011/lobmeyr4-2011.htm .


more fashion.at/mobile>
News from
March 2011
February 2011
January 2011
December 2010
November 2010
October 2010
September 2010
August 2010
July 2010


subscribe
terms
imprint
Sawetz (C) 2008/9/10