Onitsuka Tiger
spring/summer 2011
The anatomy of the foot

In March 2011, Onitsuka Tiger presents a new line of sportive sneakers with a special constructed forefoot that is known from martial arts and provides a barefoot running experience.
Tabi socks have a split toes cut. The traditional Japanese socks became later shoes, which were worn in Japan by workers and farmers. Outside of Japan, they are known especially as footwear of martial arts practitioners; they are also associated with Ninja outfits. The split toes' benefit is the better 'earth-feeling'.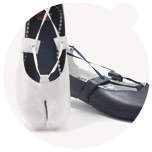 fig. original: Sandals in white and black from the Okatabi line by Onitsuka Tiger, SS2011. Photo: (C) Leo Potma.
The barefoot running inspired Okatabi line is a tribute to the Marathon Tabi by Onitsuka Tiger from 1953. The company Onitsuka Tiger was founded 1949 by Kihachiro Onitsuka, a basketball fan. In 1977, Kihachiro Onitsuka joined forces with partners and created the label Asics.
Video: Comics alike fighting scene from the Quentin Tarantino movie 'Kill Bill II' (2004) with Lucy Liu and Uma Thurman as The Bride aka. Black Mamba, who has with some people an 'unfinished business'. Uma Thurman wears in the scene the yellow/black Tai-Chi sneakers by Onitsuka Tiger in a special 'Kill Bill' edition.

Source: Original article with image and video on http://www.fashionoffice.org/collections/2011/okatabi3-2011.htm.


more fashion.at/mobile>
News from
March 2011
February 2011
January 2011
December 2010
November 2010
October 2010
September 2010
August 2010
July 2010


subscribe
terms
imprint
Sawetz (C) 2008/9/10