Kiehl's & Pharrell Williams & Bionic Yarn
spring/summer 2011
Hip-hop musician in beauty
In March 2011, beauty label Kiehl's presented for Earth Day 2011 (22 April) together with Grammy awarded hip-hop musician/producer (The Neptunes) and lead vocalist of N.E.R.D. Pharrell Williams the new collaborative eco-friendly shopping bag.
fig. original: Eco-Tote 2011 (comes out in a limited edition) of Kiehl's 'Recycle and Be Rewarded' program (Kiehl's takes empty bottles back and recycles them) in collaboration with Pharrell Williams, who has designed the bag on occasion of Earth Day 2011 (22 April). The typical Kiehl's bottles on the bag remember to recycle material after usage. The fabric of the bag itself is made from an eco-friendly material (Bionic Yarn - recycled plastic bottles mixed with other fibers) that was developed in the New York based company 'Returns Textiles' which is co-owned by Pharrell Williams.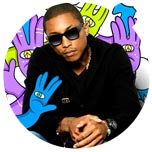 fig. original: Pharrell Williams. Photo: Jam Sutton.

Source: Original article with images on http://www.fashionoffice.org/music/2011/pharrellwilliams3-2011.htm.


more fashion.at/mobile>
News from
February 2011
January 2011
December 2010
November 2010
October 2010
September 2010
August 2010
July 2010


subscribe
terms
imprint
Sawetz (C) 2008/9/10