VENICE INSIGHT by publisher Karin Sawetz June 2011
Karin Sawetz is journalist, media researcher and fashion scientist (Mag. Dr. phil.).
Digital media artist in a plastic suit

The plastic suit was especially designed for the interactive laptop performance by multimedia artist, electronic musician, Professor for Art Ahmed Basiony. I have seen the art work on 1st June during the 54th Biennale di Venezia inside the Egypt Pavilion.

Ahmed Basiony was a political activist too. He was killed on 28 January 2011 with several gunshots in Tahrir Square in Cairo.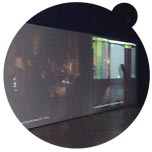 fig. original: To capture artworks which are running as moving pictures on a screen in a dark room is not easy - like you can see on the image on this page. What you wouldn't even see on a better photograph is the atmosphere I experienced in this pavilion. The room was filled with --- probably melancholy is not the right word; it was 'calm emotion'.

The visitors sat very thoughtful on a bench in front of the split-screen video wall showing Ahmed Basiony himself in the Tahrir Square as activist; another part screened the documentation of the plastic suit performance '30 Days of Running in the Place' (from February - March 2010) with the artist in his 'sweat-suit' sitting in front of a laptop.

"In it, Basiony performed daily for one hour wearing a plastic suit, designed especially for this project, that covered him completely with digital sensors to calculate the amount of sweat produced and the number of steps taken while he jogged around the room. The data was then transferred wirelessly to the computer that projected it onto a large screen with a graphic grid and geometrical coloured shapes that changed in accordance with the physiological changes in his body as he moved, creating an interactive relation between the living body and the digital system in an aesthetic manifestation of colour and shape." ahmedbasiony.com/viewproject.php?IssuesID=14

On the wall there was a text, taken from Ahmed Basiony's Facebook entries from his last Wednesday and Thursday evenings: "...If they want war, we want peace, and I will practice proper restraint until the end, to regain my nation's dignity."

Video: Interview with commissioner Shady El Noshokaty and curator Aida Eltorie of the country presentation at the Egypt Pavilion during the 54th Biennale di Venezia.

Other reports about the 54th Biennale in Venice:
"From where have you got this bag?"
Tour through the 54th Biennale di Venezia by following the style of the individual bags of the country pavilions...
"Where is the 'Louis Vuitton'-pavilion?"
I took the seat beneath a woman and started talking about the pavilions...
"Is the Frog King on Twitter?"
...asks the visitor into the webcam of the installation 'Frogtopia - Hongkornucopia' by the Hong Kong (China) artist 'Frog King' during the 54th Biennale di Venezia...
Solidarity bag in Venice; Insight by publisher Karin Sawetz
Unfortunately I couldn't take a photo from the red-white-red bag with my own camera. Back in Vienna, I have received images from the Kunsthaus Bregenz (Austria) which distributed 5.000 'Ai Weiwei'-solidarity bags at the 54th Biennale di Venezia...
Venice Insight by publisher Karin Sawetz: 'What Women Want(?)'
...is the title of an exhibition during the 54th Biennale di Venezia which I won't show but bespeak picture-less. I will explain my decision why I don't publish the images.

Source: Original article with image and video on http://www.fashionoffice.org/culture/2011/plasticsuit6-2011.htm.


more fashion.at/mobile>

News from
May 2011
April 2011
March 2011
February 2011
January 2011

subscribe
terms
imprint

Sawetz (C) 2008/9/10