WOMEN STYLE
spring/summer 2011
fashion by Palmers, Bench
beauty by Clinique
sunglasses by Dolce & Gabbana Madonna
jewellery by Pierre Lang, Karen Morrison
lifestyle by Urbanears
Holiday style
Holiday planning provides a pre-taste of relaxed times. If it's on a mountain, during the exploration of a city, or somewhere else where new experiences can be made, holidays are the time to break with the usual. Insofar, holidays can happen everywhere and anytime.
But it's easier for example under a warm sun on the beach. Fashionoffice has collected some pieces for the holiday style 2011.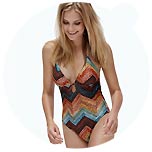 fig. original:
Swimsuit 'Banjul' in zig-zag pattern made of the colors of the earth, sun, and the ocean by the Austrian bodywear label Palmers, SS2011. The small and irregular printed dots on the elastic fabric evoke the impression of a knitted swimsuit.
4-pockets 'Short Maite' made of denim by the UK (Manchester) board- and BMX-sports label Bench, SS2011.
'Even Better Clinical' serum against dark spots and traces of acne by Clinique, the new 50ml packaging (face, hands, décolleté) is announced for mid-March 2011.
Friendship bracelet, handmade silver chain intertwined with brightly ocean blue colored suede by British jewellery designer Karen Morrison, SS2011. In 2009, she was nominated in the Scottish Fashion Awards for Jewellery Designer of the year. Now, Karen Morrison announces the opening of a pop-up boutique from 15 March 2011 to 20 March 2011 at "The Corner Shop" in London.
Sunglasses 'DG4107' in a fiery pattern in the colors sunny orange, glimmering red, and lava from the Dolce & Gabbana Madonna collection, SS2011.
Finger ring with an exotic bird (toucan) by the Austrian jewellery label Pierre Lang, SS2011. Photos: Pierre Lang.
Mocca colored headphones 'Medis' with earclick by Urbanears (founded in Stockholm), seen in February 2011.

Source: Original article with images on http://www.beautyme.com/skin/2011/spring-womenstyle2-2011.htm.


more fashion.at/mobile>
News from
February 2011
January 2011
December 2010
November 2010
October 2010
September 2010
August 2010
July 2010


subscribe
terms
imprint
Sawetz (C) 2008/9/10