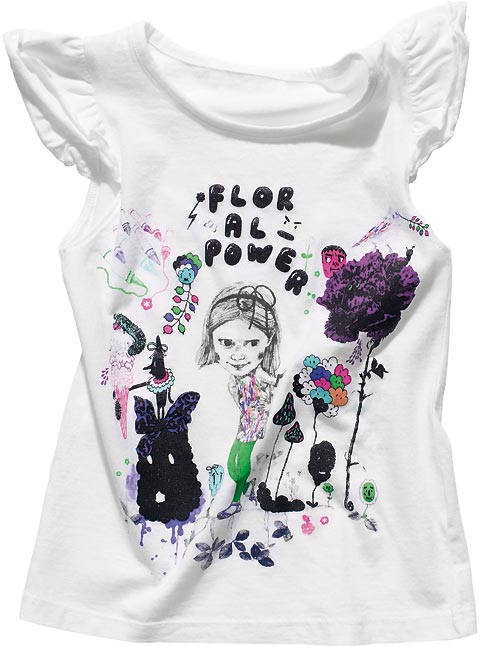 BEATA BOUCHT for H&M
spring 2010
Illustrating ecological consciousness for kids
In January 2010, the first H&M art collection 'ArtBy' for kids premieres with illustrations by Beata Boucht (for girls) and the design duo VÅR (for boys) focusing on themes around the nature and future of our planet; printed on organic and recycled cotton.
fig.: Print by Beata Boucht on a girl shirt from the 'ArtBy' collection for kids by H&M, spring 2010.
"I want people to disappear into the sometimes surrealistic world that I create," says the Stockholm based illustrator and graphic designer Beata Boucht whose Alice-in-Wonderland alike characters are stepping in leggings and ballerina pumps through a world of over-dimensional flowers and funny creatures. "I like to surprise people, as well as myself."
On her website www.beataboucht.com, the graduate from Swedish University College of Arts Crafts and Design, Konstfack, presents her editorial and fashion illustrations, as well as her work for advertising, graphic design, video etc. H&M is not the first fashion company she has worked for; on her client's list you can find already the outdoor clothing label Peak Performance.
In the directory 'video', Beata Boucht shows a video which she has directed together with Emma Göthner & Beata Boucht for the Swedish musician Jenny Wilson.
Video: 'A Hesitating Cloud Of Despair' by the Swedish singer/songwriter Jenny Wilson from her album 'Love And Youth' (2005), directed by Emma Göthner & Beata Boucht. Last.fm reports that Jenny Wilson plays every instrument on the album which was ranked by music journalists as one of the best Swedish albums of the year.


more culture>>>