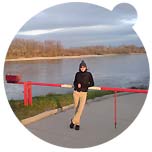 FASHIONOFFICE INSIGHT
by publisher Karin Sawetz
Jan 2009


What makes online publishers objective 'gate keepers'? Is there a reason why online publications are more authentic than other media?

By the end of 2008 some online publisher thought to have a great idea: under the title "Donations Accepted" they proclaimed to sell editorial space of online publications for giving "donors a say".

If this becomes the strategy of online 'gate keepers' aka publishers, how could you ever trust editorials any longer? Even if it is common in print business to write for money of 'donors', hasn't online better solutions for journalists than to betray their readers?
Online has better advertising tools!
Isn't this the reason why internet is the better and more authentic media because for the first time journalist can write without thinking simultaniously the campaign of advertisers who are supporting his work without influencing him?
Good working online admanagers can secure with their systems the freedom of speech and journalism better than ever before.
Many daily news papers and broadcasters wouldn't exist without the support of the government - some media are actually owned by them; reading political reports without this knowledge makes you an easy victim of paid opinion leaders. Fashion or women magazines are in relation harmless, aren't they?
Are fashion magazines political?
The content of political reports is about values of our society and which political party is supporting the emancipation of women, that the opposition is working for minorities or fights for the environment ...
What can you find in fashion and women magazines? The (mostly female) staff is writing about women who are handling family and job, give advice how to express this modern woman of today in fashion and beauty, and open space for opinion leaders of art, culture, design... to spread their word about themes such as minorities, the environment ...

In all times you can observe that the self definiton of the human being as part of the society is realised by the expression in clothing, hair- and face-style. And nothing will change this universally valid mechanism to communicate by the means of fashion as long as the humans are not disembodied existences.
fig.: You can see me 'On The Beautiful Blue Danube' in Vienna, Austria; yes, this is where the waltz by Johann Strauss comes from! If you haven't danced the waltz before, you know it from Stanley Kubrick's "2001 A Space Odyssey" youtube.com/watch?v=CDAWszeZtNg.
Even by the end of 2008, a friend who owns a media agency asked me, how the future of the internet looks like from my point of view. I told him: "Very good, because it is the best media for high quality and free journalism. We are combining every other traditional media in Fashionoffice.org and produce editorials made of text, image, sound and video. Additional the internet has the best instruments for advertisers to present their campaigns in the context to relevant content."
At fashionoffice.org we are 'mashing up' information and opinions from other sources. To give you some examples, please read the editorial about a renown Indian designer which is mashed up with a report by a broadcaster specialized in Asian and Western societies, or for the article about new shoes we have chosen an interview by a Canadian broadcaster, or the report by a very famous fashion publication about a French couturier as an additional view to our editorial about the new collection ...

Today it is common to embed content from other media and extend their reach. This is one of the reasons why Fashionoffice.org offers the RSS service which can be embedded even through a stylish widget feedproxy.google.com/FashionFeeds.

At Fashionoffice.org we are searching for content to complement the view on selected subjects; and we love to challenge with contributions such as following video the ones who are smattering to start thinking.

Video by LA based director, animator and artist Andrew Huang about a machine with a doll face that mimics faces on television screen in search to get a similar visage. andrewthomashuang.com
Dr. Karin Sawetz, founder and publisher of fashionoffice.org (since 1996), is journalist, media researcher and fashion scientist.

Karin Sawetz has a diploma from a higher-level secondary college for the fashion and clothing industry. She was awarded with the first prize for her design of the male work trousers for the OMV filling stations (OMV is Central Europe's leading oil and gas group) - the design has been realised. Before and while studying for the diploma she was designer for her own label, which she has presented international.
Beneath her studies at the University of Vienna she worked as costume designer for theatre and film, was civil servant at the Austrian Federal Ministry of Economics (Department Fashion & Textile Industry), ...
After she has finished her studies at the Institute for Journalism and Communication Sciences, the Institute for Film-, Theatre- and Media-Sciences, the Institute for Philosophy at the University of Vienna, and the Institute for Artistic Sciences, Art Education and Communication, Department for Cultural and Intellectual History, at the University of Applied Arts, she was lecturer at the University of Vienna and the Vienna Chamber of Commerce, published scientific studies, ...
In the last years she focused her work on fashionoffice.org as an international magazine and organization for intercultural approaches in fashion and art.


More publications> sawetz.com/publications.htm
FASHIONOFFICE INSIGHT:
Sept 2009
Aug 2009
July 2009
June 2009
May 2009
Apr 2009
Mar 2009
Feb 2009
Jan 2009
Dec 2008
Nov 2008
Oct 2008
Sept 2008
Aug 2008