FASHIONOFFICE INSIGHT
by publisher Karin Sawetz
July 2009


Fortunately internet can be received in almost each country of the civilized world!
Because...
Traveling time has started!
Fortunately, even the measuring of the audience data is not geographical bounded. Since July you can compare monthly data of Fashionoffice published by the US (San Francisco headquartered) company Quantcast on fashionoffice.org/contact.
Last month I have presented some thoughts about the qualities of the internet mirroring the reality. Compare the data by Quantcast and Alexa.com (especially the keywords) and make up your own opinion about brand building online. Find out which brands, keywords... are most associated with the domains of Fashionoffice. You can use new data online or the collected ones on stat-fashionoffice5-2009.htm.
Easy traveling with a mobile phone only! It is easy for you to stay in touch without a computer. Receive the Fashionoffice news by choosing www.fashion.at/mobile on your mobile phone!
Fashionoffice pre-traveled to give insights into some possible holiday-destinations:
"Paris Insight" is about the adventurous men of the city and Paul Smith's photographic work, showing a 'young pirate'. On the photographs you see mainly one man, standing alone; his dark hair is wild, the beard is adventurous without any hurry, wearing nothing else than his naked shoulders. Paul Smith has shot the campaign in a hotel...
> beautyme.com/fragrance/2009/paulsmith6-2009.htm
"Dubai Insight" by lifestyle editor Caroline Zerrini brings us to the Cavalli Club, the exhibition '(No) Improvisation' by Farshid Maleki, a touch of United Arabic Emirates style by reporting about the exclusive Lacoste shoes collection by Zaha Hadid, and Caroline invites to an olfactory travel with Chanel and Dior...
> fashionoffice.org/interior/2009/cavalli6-2009.htm
> fashionoffice.org/culture/2009/farshidmaleki6-2009.htm
> fashionoffice.org/collections/2009/lacoste6-2009.htm
> beautyme.com/fragrance/2009/traveling6-2009.htm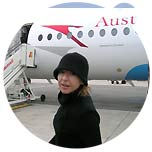 "Munich Insight" is about beauty journalism, the new fragrance by Lolita Lempicka and why Munich's men have astonished me...
> beautyme.com/fragrance/2009/lempicka6-2009.htm.
"Vienna Insight" is about the new shoe trends FW9/10 seen at Humanic, the 'swish', and why Vienna is a good place for walking with high-heels...
> fashionoffice.org/collections/2009/humanic7-2009.htm.


Karin Sawetz is journalist, media researcher and fashion scientist (Mag. Dr. phil.). > sawetz.com
FASHIONOFFICE INSIGHT:
Sept 2009
Aug 2009
July 2009
June 2009
May 2009
Apr 2009
Mar 2009
Feb 2009
Jan 2009
Dec 2008
Nov 2008
Oct 2008
Sept 2008
Aug 2008

Source: Original article with image and video on http://www.fashionoffice.org/survey/2009/karinsawetz7-2009.htm.


more fashion.at/mobile>
News from
May - July 2009
April - May 2009
Jan - March 2009
October - December 2008