AFTER SUMMER
spring/summer 2010
fall/winter 2010/11
fashion by 55DSL, Diesel, Napapijri, ck Calvin Klein, Swatch, adidas
beauty by MAC Cosmetics
music by Beirut
Fashion that holds back passing time

In May, retailers begin to stock new collections which had been presented to journalists under the title 'fall/winter' with pieces that look like late summer fashion. Through the last years, the collections of the fashion industry became increasingly over-seasonal and collectible. This has two reasons: the collections are designed mostly worldwide - and this means for different climate zones, not to mention the hoodies, sweaters, jeans, etc. which can be worn the whole year through. The second reason is that many labels offer limited editions, often in cooperation with artists or external designers on special themes which makes them to art-a-like collectibles and not necessarily bounded to seasons.
Nowadays you can collect fashion, but have you got enough postcards with handwritten messages from your friends to open your private offline-'museum'? Probably not.
Postcards and limited fashion editions have a 'souvenir-touch': they help to remember times, places, and persons for the future.

Video: 'Postcards from Italy' by Beirut, a Balkan-European-American music project by Zach Condon, from the album 'Gulag Orkestar' (2006). The track is the most requested of Beirut's songs in May 2010 on last.fm. The video is directed by Israel born in Los Angeles living Alma Harel who had bought the super8 films on ebay from US families, except the footage with Zach Condon and Kristianna Smith which was shot in her back yard and around Silver Lake in California. Today, the new 'postcard'-collections can be found in facebook galleries, on blogs, YouTube, Vimeo, and other social media platforms. Beirut is on tour; probably you find time and a place to take a picture for your souvenir-collection: 22 July in Salt Lake City, US, 8 Aug Beja, Portugal, 11 Aug Antwerp, Belgium, followed by Germany, Czech, Poland, UK, Scotland, Ireland, France...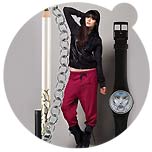 fig.: original beginning with the woman in...
'5 Seasons Jacket' and pants from the 55DSL collection by Diesel, fall/winter 2010/11. Diesel calls the red of the pants 'Cherry Bomb'.
In April/May, the Italian label Diesel invited journalists to the fall/winter 10/11 presentations with the call to bring creativity because "we will create with a spirit of constructive rebellion. We will reject convention in favor of the extraordinary". On the invitation Diesel proclaimed the label's task: "To liberate creativity and allow the unique to exist".
After walking through the extensive presentation of jeans, jackets, shoes, accessories for men and women, the press packages were waiting for the journalists: digital material on CD, lookbooks in printed poster-format, two catalogues on paper, and a t-shirt as a souvenir from the limited 55DSL '10.55' collection FW2010/11.
55DSL is directed by Andrea Rosso, who studied pattern cutting in Padova and Textile Development and Marketing at the Fashion Institute of Technology in New York. He belongs to the Diesel founding family Rosso and approaches fashion from street-sport-art with rebel touch. The t-shirt from the press package was from his 10.55 project. 10.55 is a collaboration with different international artists who have the complete freedom to design a t-shirt, which is produced in a limited number of 1055 t-pieces worldwide.
For FW2010/11, US illustrator John Malloy who reflects on themes like consumer culture, Shinpei Naito who is drawing because he wants to spread optimism, or Frosti Gnarr from Iceland who has created for this 10.55 edition a diamond sculpture that appears - by looking closer, like a frozen man, etc. have contributed their ideas.
'Chain Reaction' bag by Diesel, FW2010/11. Wires and chains are dominating the applications and graphics of the new bags collection.
Sportive bikini 'Virta' by Napapijri, SS2010.
'Waves' chain by ck Calvin Klein, SS2010.
Eye kohl 'Rosemary & Thyme' from the limited edition 'To The Beach' collection by MAC Cosmetics, available exclusively in May and June 2010.
Watch 'Too Many Memories' in a design by the Belgrade born in Paris living artist Enki Bilal from the Swatch & Art Collection 2010. Enki Bilal is known for creating illustrated short stories such as 'Hatzfeld', a four book series about the break-up of Yugoslavia. He is also directing movies.

In 1985, Swatch has launched the first art specials at Centre Pompidou in Paris. In the meanwhile, international artists have created watches for Swatch like Spanish director Pedro Almadóvar or for this 2010 collection, the Indian born fashion designer Mansih Arora who is known for his Bollywood, pop-culture style.
High-fashion, sportive 'Fashion Wedge' by adidias, FW2010/11. Adidas has introduced the wedges already in S/S 2009 and designs since then variations in materials and details like lace-up versions (this page) or knee high boots which look like down jackets on legs. The collection will hit retail mid July 2010 in stand alone adidas SLVR stores in Paris, New York and Bangkok as well as the adidas Brand and Performance Centers in Paris, Berlin, Moscow and Beijing.

Source: Original article with video and images on http://www.fashionoffice.org/collections/2010/aftersummer5-2010.htm.


more fashion.at/mobile>
News from
March - April 2010
January - March 2010
December 2009 - January 2010
December 2009
November - December 2009
September - October 2009
July - August 2009
May - July 2009
April - May 2009
Jan - March 2009
October - December 2008


subscribe
terms
imprint
Sawetz (C) 2008/9/10