ARI SEPUTRA
at Jakarta Fashion Week 2010/2011
6 - 12 November 2010
Jakarta, Indonesia
Designer on World Cultural Heritage from Indonesia
On 8 November 2010, the renowned Indonesian designer Ari Seputra has hold a charity show on occasion of his label's 10th anniversary for the Indonesian Heart Foundation ('Yayasan Jantung Indonesia') in front of guests dressed with a 'touch of red', the Heart Foundation's color, at the annually Fashion Week in Jakarta, Indonesia. Ari Seputra has designed his collection on inspiration of three traditional Indonesian themes:
Borobudur, a Buddhist temple in a pyramid-shaped mandala form (built in 800 AD) that counts to the World Cultural Heritage, is one of Indonesia's most important tourist attractions,
Wayang, the Indonesian popular shadow puppet theatre is officially (UNESCO) part of the World Heritage,
and Keraton, which means 'royal palace' in Javanese.
Ari Seputra entitled his collection 'Trilogia'.

On 'Twothousandthings', the collection is presented with pictures that are assigned to each theme.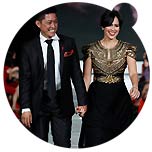 fig. original: Designer Ari Seputra and model in 'Keraton' (means 'royal palace' in Javanese) inspired evening gown with rich gold and silver metallic decoration on the top and wide skirt made of light floating black fabric on 8 November 2010 on the catwalk at the Jakarta Fashion Week 2010/2011 at Pacific Place shopping mall in Jakarta, Indonesia. Photo: Ulet Ifansasti, (C) 2010 Getty Images, for Jakarta Fashion Week.
More than one hundred of Indonesia's leading designers partake at the Jakarta Fashion Week (JFW) in November 2010. The collections present the country's heritage in new interpretations made of traditional fabrics dyed with the batik technique (batik from Indonesia is even World Heritage - find out more on the video 'Indonesian Batik'), pattern, and colors.
"The JFW 2010/11 opened with the show entitled 'A Tribute to Kebaya', featuring Kebaya, the national dress of Indonesian women as interpreted by more than 20 renowned designers," reports the Femina Group, one of Indonesia's leading media companies and organiser of the Jakarta Fashion Week. "The vibrancy of Indonesia's fashion industry mirrors the country's cultural diversity, open society as well as its booming domestic economy. Indonesia is the world's largest Moslem country, the third largest democracy and one of the three rapidly growing Asian economies after China and India."

Source: Original article with images on http://www.fashionoffice.org/collections/2010/ariseputra11-2010.htm.


more fashion.at/mobile>
News from
October 2010
September 2010
August 2010
July 2010
June 2010
May 2010
April 2010
March - April 2010
January - March 2010


subscribe
terms
imprint
Sawetz (C) 2008/9/10