BEACH MAN
spring/summer 2010
fashion by Jockey, Timberland, Ludwig Reiter
beauty by Römerquelle, Marlies Möller, L'Occitane
music by Jack Johnson
How does he look like when he wears clothes?

Men can look great in their shorts on the beach. But unfortunately often the ones with the highest swimshorts-impact fail when they are dressed up in unfashionable pieces and the desire grows that they get undressed again.
Even accessories and beauty tools count!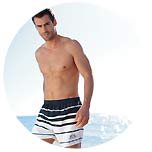 fig.: original clockwise, beginning with the man in the...
Swimshorts in blue/white striped maritime look by Jockey, SS2010. Jockey has named the collection of beach- and swimwear 'Change'. The collection consists of two lines, the elegant 'Maritime' and the exotic 'Tropicana' line. The US label (founded 1876 in Michigan) advices to use pieces from both lines to 'change' the personal look on the beach easily.
'Emotion' mineral water with pomegranate in a 1 liter PET-bottle by Römerquelle, comes in June 2010 in a limited summer edition into Austrian stores. Pomegranate stands for sensuality and passion. The motto of this beverage is: 'To find the right partner is a question of taste.'
'Men Unlimited' hair care system (Shampoo, Activating Scalp Serum, Construction Gel, Brush) by Marlies Möller, comes into shops in June 2010. The label advices to brush the hair in all directions with soft pressure on the scalp once a day.
Marlies Möller's akkupressure tip for more energy: press the brush soft on the scalp and move it in circles. The massage will activate the circulation and prepares the scalp for the following treatment.
Energy Moisturizer for men by L'Occitane, SS2010.
The product is made of the revitalizing water from the Verdon valley in France, peppermint, sea water, etc.
Orange 'Packable Benton Cagoule' by Timberland, SS2010.
Timberland states in its SS2010 catalogue: "Environmentally-conscious materials help leave the outdoors the way it was found." The jacket on this page is made of 100% recycled polyester ripstop and has a waterproof coating.
iPod leather case by Ludwig Reiter, SS2010.
'Wake Slip-On' by Timberland, SS2010.

Video: 'You And Your Heart' by Jack Johnson (vocals/guitar) from the new album 'To The Sea' (release June 2010). The video is directed by Jack Johnson himself. In May 2010, the musician has invited to a social action for becoming active in the local as well as world community. In his surrounding, Jack Johnson has selected the Santa Monica Beach in California. 2000 volunteers have registered and will clean up the beach on 22 May. Therefore they can join Jack Johnson's concert and premiere of his new album 'To The Sea' on 24 May for free. On 21 May, he writes on his website: "While registration for the clean up is full, don't be discouraged, You can still win tickets by following @jackjohnson and @brushfire on Twitter."
In June, Jack Johnson's Europe tour starts: 16 - 19 June Germany, 21 June Amsterdam, 23 - 24 June Paris, followed by UK, Belgium, Denmark. In July 2010, Jack Johnson returns to US and tours through the country.

Source: Original article with video and images on http://www.fashionoffice.org/collections/2010/beachman5-2010.htm.


more fashion.at/mobile>
News from
March - April 2010
January - March 2010
December 2009 - January 2010
December 2009
November - December 2009
September - October 2009
July - August 2009
May - July 2009
April - May 2009
Jan - March 2009
October - December 2008


subscribe
terms
imprint
Sawetz (C) 2008/9/10