COLLECTIBLES
fall/winter 2010/11
fashion by Alexander McQueen, ck, Michel Klein
beauty by Harajuku Lovers
lifestyle by Tchibo, Designflagship Eybl Home, Coca Cola
Randomly collected pieces

Fashionoffice has picked some pieces randomly under the title 'collectibles'. Most of the pieces are from limited editions and express the contemporary Zeitgeist such that
beauty and fashion is strongly influenced by the music industry
the way we are taking our food is accompanied by interior-alike machines
fashionistas are tending to use motorcycles as city-transport vehicles
creative ideas on recycling are quality criteria of brands.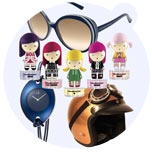 fig. original:
Sunglasses 'AMQ 4167' by Alexander McQueen, FW2010/11. Photo: (C) Andrea Favarin. The zick-zack line is by a closer look a 3-dimensional abstraction of feathers.
Eau de Toilette 'Harajuku Lovers' in the limited 'Wicked Style' edition by Gwen Stefani, FW2010/11. The Harajuku girls are the four women dance group who appear on stage and in videos together with Gwen Stefani. They are the inspiration for the Harajuku Lovers fragrances. The four women and fragrances have own stage names which are derived from Gwen Stefani's label L.A.M.B. (Love. Angel. Music. Baby.). The fragrance bottles are dressed up in the style of L.A.M.B. fashion. Love's style is inspired by Rococo, Lil' Angel's look is Gothic, Music is dressed in a school uniform, which is a typical Japanese girl style, Baby wears a colorful layered outfit of sweater and t-shirt with lot of accessories. In the middle, you can see the flacon with the label 'G' for Gwen Stefani. Her emerald vintage cape-dress is in the style of 'Omotesandō', the Champs-Elysées of Tokyo.
Watch 'Suspension' in blue by ck, FW2010/11.
Metallic sapphire colored capsule-coffee machine for espresso, caffè crema, cappuccino, etc. from the Cafissimo limited collection by Tchibo, seen in FW2010/11.
Motorcycle helmet in glamorous gold by Michel Klein, FW2010/11. The French designer re-opened again his boutique this autumn in Paris. The video provides an insight into the shop.
Seating furniture in gold and petrol, seen at the Designflagship Eybl Home in Vienna, FW2010/11. The design of the stool looks as if it is inspired by the French Empire (end of 18th - beginning of the 19th century) when Napoleon was on expedition in Egypt. The furniture shows the heads of four horses in gold; by twos are teamed together with a bamboo a-like bar. The seating is upholstered with petrol colored fabric with golden ornaments.

'111 Navy Chair' or 'Coca Cola Chair' made of 111 recycled PET Coca-Cola-bottles, seen at prodomowien and prodomowindows in Vienna, FW2010/11. Photo: (C) Jürgen Hammerschmid for prodomo. The design of the '111 Navy Chair' (premiered in April 2010, since September available) follows the legendary aluminium 'Navy Chair' by Emeco from 1944. The 'Navy Chair' made of recycled aluminium was especially designed for the US marine and was fire-resistant, rustproof, light... to name only three qualities. Even designer Philippe Starck re-interpreted the original design from 1944 and created the 'Hudson Chair' for the Hotel Hudson in New York.

Source: Original article with images on http://www.beautyme.com/fragrance/2010/collectibles10-2010.htm.


more fashion.at/mobile>
News from
October 2010
September 2010
August 2010
July 2010
June 2010
May 2010
April 2010
March - April 2010
January - March 2010


subscribe
terms
imprint
Sawetz (C) 2008/9/10