MEN STYLE
fall/winter 2010/11
spring/summer 2011

fashion by Jeremy Scott for Adidas SLVR, BMW Mini, Giorgio Armani for Whatever it Takes, Gloriette, Burlington, Levi's
beauty by Paul Mitchell
Fashion made of culture and nature
Fashionoffice has collected some pieces that are fashionably new and much grounded - in culture or nature, or both.
It seems as if thinking contemporary fashion diminishes noticeably the difference between nature and culture: the watch collects money for projects on the environment, the shirt is produced eco-friendly, the purchase of the hair care box supports the cultivation of healthy nutrition.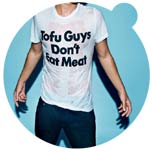 fig. original:
'Tofu' t-shirt and denim 5-pocket jeans from the Jeremy Scott collection by Adidas SVLR, SS2011. The overall Adidas SVLR SS2011 collection is inspired by modern sportswear and classical New England style. Jeremy Scott has designed a collection in the collection like the Tofu shirt with bold letters and jeans with a fun appeal on this page.
The photos of the new collection are taken by Paris born and Central Saint Martins, London educated photographer Karim Sadli. Together with stylist Jay Massacret, Sadli created a summerly fresh mood. Adidas SLVR states that the creative heads of the label continue "to evolve, reflecting the tone and pace of today's world. It stresses the importance of living, working and designing in smarter and more efficient ways."
'Mini Countryman' Wellington boots (unisex) with Union Jack and printed badges in rock-style by BMW Mini, seen in FW2010/11. Photo: (C) BMW AG.
Men's watch with artwork donated by Giorgio Armani (limited edition) for Whatever it Takes, FW2010/11. The motto of 'Whatever it Takes' is: 'merchandise with a meaning'. The newest campaign on the organisation's website shows watches from celebrities like Giorgio Armani, Samuel L. Jackson, Stella McCartney, George Clooney... Whatever it Takes sells products which are created together with celebrities and supports projects like Heifer International, Water Aid, Breast Cancer Campaign, Greenpeace, etc.
Holiday Box 'Tea Tree Style' (shampoo, firm hold gel, pomade, shaping cream) by Paul Mitchell, FW2010/11. With the purchase of this year's holiday boxes, Paul Mitchell supports the project 'Grow Appalachia' which brings knowhow about healthy nutrition and lifestyle that is affordable even with few money to the people in the Appalachia region.
Shirt from the 'Luxury Edition' by Gloriette, FW2010/11. Gloriette has gained the 'Blue Sign' for fair-trade and environmental friendly production (from the cotton planting to the distribution into the shops).
V-neck argyle interpretation in washed-out pink from the 'Yellow Submarine' theme in British inspired style by Burlington, SS2011.
Jacket 'Utility Trucker' from the 'California Dreaming' Red Tab collection by Levi's, SS2011. 'California Dreaming' stands for a pioneering spirit and is represented in the collection by pieces that originate from various seasons - up to 100 years back in time, and have written fashion history.


Source: Original article with images on http://www.fashionoffice.org/collections/2010/menstyle11-2010.htm.


more fashion.at/mobile>
News from
October 2010
September 2010
August 2010
July 2010
June 2010
May 2010
April 2010
March - April 2010
January - March 2010


subscribe
terms
imprint
Sawetz (C) 2008/9/10