MEN STYLE
fall/winter 2010/11
spring/summer 2011

fashion by Bruno Banani, Planet Earth Clothing, Y-3
lifestyle by Carrera, Kettler, HP, Vaude
A weekend in a cottage in the snowy mountains
In November 2010, Fashionoffice has looked through the material that was sent in the last weeks for editorial consideration and picked some men's fashion pieces for a holiday weekend in a cottage in the snowy mountains.

The article provides some thoughts about the signature of Italian design, the philosophy of boarders, and combines that with a red glam-chic short, an awarded 'One Night Stand' mat, and a new notebook which is designed for watching movies on its screen...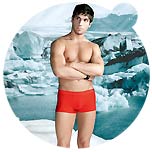 fig. original:
Bright red short from the 'Sincere' line by Bruno Banani, FW2010/11.The German underwear label has sent X-Mas tips with focus on 'glam-chic'. 'Sincere' on this page is made of a fabric with vertical glossy stripes.
Ski helmet 'Bullet' from the 'Exclusive Collection' by Carrera, FW2010/11. Carrera, the label belongs to the Italian Safilo Group, combines protective sports gear with Italian design. Probably one characteristic of products in Italian design is that they are rising the impression that it is easy to develop stylish pieces with high functionality. Another signature is that 'Italian designed' pieces are made to fit easily to others.
'Outpost' pant made of eco-friendly recycled and dyed materials by Planet Earth Clothing, FW2010/11. Fashionoffice has received the information about the new 'Planet Earth Clothing' collection with the title 'ECO Special'. On some websites, the sustainable thinking and producing label is described as a collaboration of boarders, musicians, artists. By looking closer on the label's website, the extensive collection of real-life video stories catch one's eye. It provides the philosophy of 'Planet Earth Clothing' which could be described as 'free minded'. Such as the video about the traveling ski factory. It is an example for changing the way of living and finding new values in life. Watch the interview with the founder of the traveling ski factory on Planet Earth Clothing: "We met up with him in the California desert to get his perspective."
Fitness ball (weight 3kg) in orange-red by Kettler, seen in FW2010/11.
Notebook HP Envy17 3D Special with glasses, seen in FW2010/11. The notebook is designed for watching movies and TV on a mobile PC.
Blue-white footwear 'Tomotak' by Y-3, SS2011.
Sleeping bed/mat combination 'One Night Stand' by Vaude, awarded with the 'Baden-Württemberg Focus Open' prize for innovative product design in October 2010.

Source: Original article with images on http://www.fashionoffice.org/collections/2010/snowstyle11-2010.htm.


more fashion.at/mobile>
News from
October 2010
September 2010
August 2010
July 2010
June 2010
May 2010
April 2010
March - April 2010
January - March 2010


subscribe
terms
imprint
Sawetz (C) 2008/9/10