WINTER STYLE
fall/winter 2010/11
spring/summer 2011

fashion by Gant, Adidas, Advanced Minority, Anonimo
lifestyle by De'Longhi, Toshiba
beauty by SBT Skin Biology Therapy
Elemental
In November 2010, Fashionoffice has collected some pieces that are inspired by the element water and its transformations snow and ice and mixed them with a jacket inspired by American heritage, eyewear in brown, and a scarf that was sent by a Viennese shop...
Probably the scarf's illustration wouldn't have found an entry on this page if the preview image hadn't been vague. But now, you can see the women on it very clearly. And what you can see is elemental too.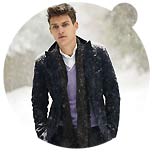 fig. original:
Man in an Italian tailored blazer in navy blue with elbow patches, sportive lavender colored knit sweater, white shirt and old style grey flannel pants from the 'Winter Nautical' line by Gant, FW2010/11. Photo: (C) Gant.
Eyewear 'Bruno' in brown mud from the Originals Eyewear line by Adidas, FW2010/11. Photo: (C) adidas Originals eyewear.
Hand-knit shawl cardigan with Navajo pattern which reflects the American heritage with sky-blues and warm earthy tones of the US southern landscape and Mexico. The cardigan is from the Santa Fe collection by Gant, FW2010/11. Photo: (C) Gant. The designers of Gant had been inspired for this line by the art and various cultures of the city Santa Fe (New Mexico), which counts to World Heritage; Santa Fe is officially (Unesco) 'City of Crafts and Folk Art'.
'The MB Destroyed And Mended Jean' by Gant, SS2011. Photo: (C) Gant.
Scarf with the illustration 'Kurzer Marsch' (means 'Short March') by Leunam Sarg (aka Manuel Gras), seen in FW2010/11 at the Viennese shop of Advanced Minority.
Fiery-red water boiler 'KBO 2001' in retro 1950s design from the 'Icona' line by De'Longhi, FW2010/11.
Camcorder 'Camileo S30' in burgundy with touch screen by Toshiba, FW2010/11.

Cell culture face cleansing gel by SBT Skin Biology Therapy, FW2010/11. The cleansing gel cools the skin and acts as a deep cleansing against impurities. It is easy to handle: wash the face with it like with a soap - apply it with wet hands on the face, massage your skin with it and rinse it off.
Watch 'Nautilo' in bronze by Anonimo in collaboration with the Florentine designer of aqua-nautical watches Dino Zei, FW2010/11. The watch has got its name from the first nuclear submarine, the USS Nautilus (inspired by Jules Verne) which surpassed in the late 1950s the North Pole - under the ice.

Source: Original article with images on http://www.fashionoffice.org/collections/2010/winterstyle11-2010.htm.



more fashion.at/mobile>
News from
October 2010
September 2010
August 2010
July 2010
June 2010
May 2010
April 2010
March - April 2010
January - March 2010


subscribe
terms
imprint
Sawetz (C) 2008/9/10