WOMEN STYLE
fall/winter 2010/11

fashion by Mango, New Yorker, Tissot
beauty by Christina Aguilera
Viking style
Fashionoffice has searched for some women's pieces that look great, are not too expensive, and styled them to a rocking Northern European Viking style.
Only one of the pieces on this page is more expensive. But it is a man's piece and probably you can get it without paying.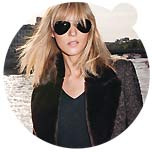 fig. original:
Woman in tweed coat with fake fur collar by Mango, FW2010/11. Photo: (C) Terry Richardson.
The photo represents the Mango Trend FW2010/11 with the title 'Suit - Heritage Forest'. Everything from British country style like tweed, furs, tailored coats, flowing blouses, wider trousers, etc. is packed into the classical collection with 70s touch.
Fake fur long jacket 'Cara' in warm brown by Mango, FW2010/11.
The jacket is from Mango's trend collection 'Heritage Forest' and shows the idea of rough nature with a fake fur material in raw cut.
Sleeveless knit top 'Jaqui' in red-brown with Northern European rural inspired pattern in rusty snow-white by Mango, FW2010/11.
Rough hewn bracelet with two crude chains by Mango, FW2010/11.
'Trust in Love' slip with a pierced heart and wings with wide feathers from the 'Censored' collection by New Yorker, FW2010/11.
Black leggings with glossy leather-alike application from the 'Amisu' collection by New Yorker, FW2010/11.
Eau de Parfum 'Royal Desire' (50ml) by Christina Aguilera, FW2010/11.
The flacon of the oriental-fruity composition is decorated with a silver charm which is available as a royal lilly (like on this page), heart or a fan.
Watch 'Visodate 1957 Automatic' with date function as homage to the 1950s by Tissot, seen in FW2010/11.
The watch is the most expensive piece on this page. Although it's not a women's piece - the watch is designed for men, it fits quite well to the combination of this Viking style. Probably you can get it without paying!

Source: Original article with images on http://www.fashionoffice.org/collections/2010/womenstyle11-2010.htm.


more fashion.at/mobile>
News from
October 2010
September 2010
August 2010
July 2010
June 2010
May 2010
April 2010
March - April 2010
January - March 2010


subscribe
terms
imprint
Sawetz (C) 2008/9/10