WOMEN STYLE
spring/summer 2010
fall/winter 2010/11
fashion by Ivana Helsinki, Keeley Smith
beauty by Wella, Clinique, Moschino
The easiness of fashion
Enjoy some nice things for summer and late summer!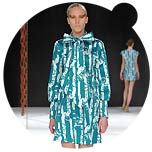 fig.: original beginning with the woman in the...
Petrol/white printed dress by Ivana Helsinki, FW2010/11. Photo: (C) Shoji Fujii. The Finnish label 'Ivana Helsinki' by designer Paola Suhonen (founded 1998) presented the new FW2010/11 collection under the title 'Copper Chain' on 10 February 2010 during the Copenhagen Fashion Week. The Ivana Helsinki collections are telling stories about the loneliness of the inidividual, the moments of romantic love, and how much it hurts when love is fading. The dress on this picture shows a 'Copper Chain' print (which is made by the designer herself). The chain appears as print and even as decoration on the catwalk. The collection is inspired by an old couple of faded lovers in their 60's "...sitting together on Brooklyn Bridge with the most beautiful bold chain tattoo around one's wrist…"
Video: Scandinavian designer Paola Suhonen from the label 'Ivana Helsinki' in an interview by Yelena Myshko from www.360Fashion.net at the Copenhagen Fashion Week in February 2010. Paola Suhonen speaks about the FW2010/11 collection's title 'Copper Chain' which is inspired like most of her clothing stories from love between a woman and a man and her addiction to the medium film, especially short movies - at the time of the interview she studied film in New York where she is even living now.
System Professional Color Finish by Wella, SS2010. The Color Save series of shampoo, mask, etc. is especially developed for colored hair. According to Wella, 68% of European women have colored hair; red hair is the newest trend; probably because red hair is the rarest natural hair color. For example: 0,3% Germans have natural red hair. This year in fashion: all reds from strawberry-blonde to warm red-brown tones.
'Brandied Bronze' Summer Look 2010 by Clinique. The designers of the summer look had been inspired by the idea to bring a fresh bronzed tone into the face. Therefore, they have packed the colors of the Carribean into the eyeshadow box, pearly gloss on the lips (SPF 15), and a powder for 'sunny' skin.
'A Keeley's Heel' by British designer Keeley Smith was announced in April 2010 as a finalist in the category 'accessories project' at Diesel's ITS fashion award.
Keeley Smith (born 1985) has studied at several universities in UK fashion and footwear design and represents the London College of Fashion at the ITS design award.
The design of 'A Keeley's Heel' is inspired by the sportswear market, brands, and the iconic status shoes like trainers can get. The print on these elegant boots are developed by the designer from abstracted trainer images.
'Toujours Glamour' by Moschino, comes into shops in June 2010.


Source: Original article with video and images on http://www.confashion.com/fw2010/womenstyle5-2010.htm.


more fashion.at/mobile>
News from
March - April 2010
January - March 2010
December 2009 - January 2010
December 2009
November - December 2009
September - October 2009
July - August 2009
May - July 2009
April - May 2009
Jan - March 2009
October - December 2008


subscribe
terms
imprint
Sawetz (C) 2008/9/10