AUSTRIA INSIGHT by publisher Karin Sawetz on 21 February 2011
Karin Sawetz is journalist, media researcher and fashion scientist (Mag. Dr. phil.).

How much costs living in Austria?

Today, I would say 'too much' as I am forced by the Austrian law to ask other media houses for a job, for example Red Bull - the beverage label has a fast growing media company in Austria, otherwise I will loose my health insurance and probably everything.
I am not unrealistic about the consequences of being disobedient against the order; so I will do what they expect. But Fashionoffice will keep on looking close at the things that happen, such as reported in the recently published media information 'The eyes of journalists'.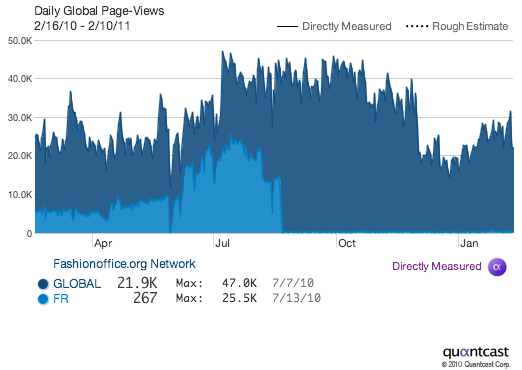 fig.: In summer 2010, Fashionoffice's traffic data from France diminished from max. 25.500 daily inventory page views to very constantly delivered around 260 from one day to the other. In the last years, Fashionoffice has checked the systems several times – even with officials on occasion of similar cases. Fashionoffice's first assumption that the data are stored somewhere for faster delivery without leaving any tracks on Fashionoffice's log files couldn't be verified. According to given explanations - even by authorities, the variations have to be explained from another view: as online is a self-regulating system that functions in a response-flow, the users' choice has the most impact: if the found information is not relevant, users will search for new sources.

Source: Original article with images on http://www.fashionoffice.org/survey/2011/austriainsight2-2011.htm.


more fashion.at/mobile>
News from
February 2011
January 2011
December 2010
November 2010
October 2010
September 2010
August 2010
July 2010


subscribe
terms
imprint
Sawetz (C) 2008/9/10