AUSTRIA INSIGHT by publisher Karin Sawetz April 2011
Karin Sawetz is journalist, media researcher and fashion scientist (Mag. Dr. phil.).

Counting people
Every country has its own methods to count people and their interests. The methods of collecting information about people's life (where they are settled down, what they are working...) and their style of living (preferences in consumption, where they are getting information from...) is always politically motivated; how much right people in a country have over their own data is a measurement for the maturity of democracy.
In Austria - probably like in many other countries too, governmental institutions can change personal data. It just happened to myself at a public office where the entry for some years of my life (1993 to 1995) had been changed without any foundation; remarks from my side that the entries are not true were ignored.

Recently, Fashionoffice published the article The democratic principle of the internet about the magazine's strategy of 'counting people' with internationally used and accredited tools. The information about the readers is delivered as anonymous statistical data - this means, we don't know the persons behind the impressions.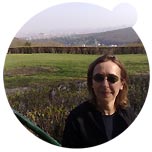 fig.: You can see me sitting on a hill with view on the city of Vienna, April 2011.

Source: Original article with image on http://www.fashionoffice.org/survey/2011/countingpeople4-2011.htm.


more fashion.at/mobile>
News from
March 2011
February 2011
January 2011
December 2010
November 2010
October 2010
September 2010
August 2010
July 2010


subscribe
terms
imprint
Sawetz (C) 2008/9/10