GLOBAL INSIGHT
by publisher Karin Sawetz on 15 March 2011
Karin Sawetz is journalist, media researcher
and fashion scientist (Mag. Dr. phil.).

Global catastrophes and personal life
The catastrophe in Japan, which began with the earthquake on 11th March, continued by the Tsunami and followed up days later by the nuclear crisis nearby Tokyo, affects people worldwide. In other parts of the world, reform movements are still holding on; in consideration of the natural catastrophe in Japan any bloody confrontations look like just for the devilment, but they are fought by people who work on better living conditions or simply try to survive.
In such times, personal problems seem to be ignorable. I have reported in my last Austria Insight that I am forced by law to search for a job at other media houses like the fast growing publisher Red Bull (which has already sent the information that they don't have a position), otherwise I will loose my health insurance and probably everything. Today I was again at the 'Job Market Service' to prove that I have made my applications and now I have to write further letters for getting medic supply in case of emergency.
Almost everybody makes the same experiences of being affected by the global world with its natural and political catastrophes and the very personal problems, which make it harder to keep on looking at the things that happen, such as reported in the recently published media information 'The eyes of journalists'; but Fashionoffice will continue its work.

fig.: In summer 2010, Fashionoffice's traffic data from France diminished from max. 25.500 daily inventory page views to very constantly delivered around 260 from one day to the other. In the last years, Fashionoffice has checked the systems several times – even with officials on occasion of similar cases. Fashionoffice's first assumption that the data are stored somewhere for faster delivery without leaving any tracks on Fashionoffice's log files couldn't be verified. According to given explanations - even by authorities, the variations have to be explained from another view: as online is a self-regulating system that functions in a response-flow, the users' choice has the most impact: if the found information is not relevant, users will search for new sources.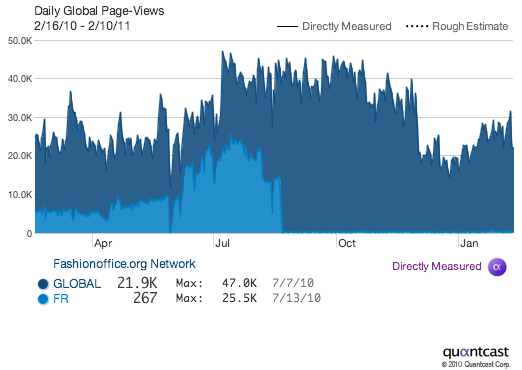 Source: Original article with images on http://www.fashionoffice.org/survey/2011/globalsight3-2011.htm.


more fashion.at/mobile>
News from
March 2011
February 2011
January 2011
December 2010
November 2010
October 2010
September 2010
August 2010
July 2010


subscribe
terms
imprint
Sawetz (C) 2008/9/10