Media information, Feb 2009
FOR IMMEDIATE RELEASE


High-ranking pages on Fashionoffice
During the last six months Fashionoffice has monitored the interest of users with Google Analytics. The magazine is installed on a third-party standard server in US, California. The research on the favorite pages viewed by the users between 25 August 2008 and 25 January 2009 completes the recently published analysis of the most questioned keywords. The page ranking is an indicator for the interest selected themes/labels evoke online. The results are published on fashionoffice.org/survey/.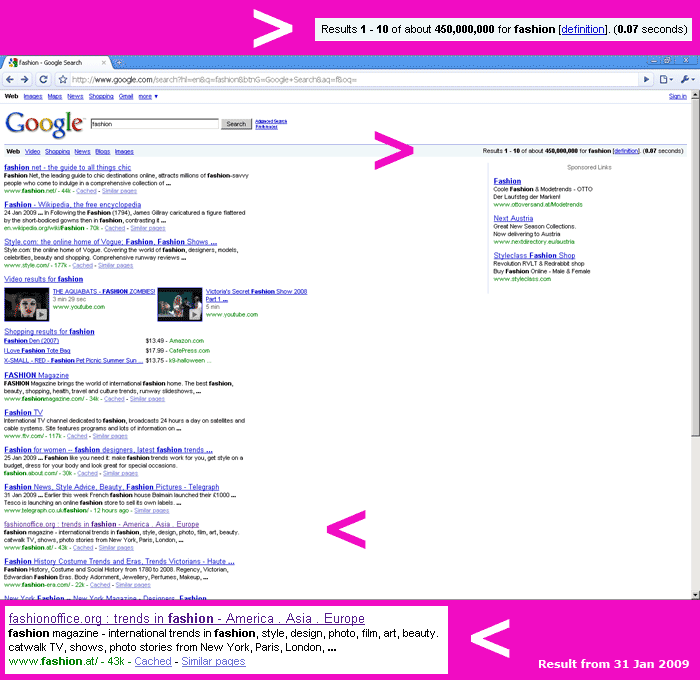 Since 13 years Fashionoffice is one of the most relevant fashion sources online. By using the anniversary-search of Google.com in their oldest available index (January 2001) the magazine ranked with the 'mother' of all Fashionoffice channels fashion.at (founded 1996) on the 3rd place of about 6,840,000 results for 'fashion'. Today, the magazine is still on the first page of 450,000,000 results on worldwide searches for 'fashion' in Google.

Click on the image to enlarge it> Read more about the top-ranking history of the magazine fashionoffice.org/press/2008/mediainfo10-2008.htm.

The keywords correspond with the high-ranking pages in most of the cases. In the fashion channels one page is leading: the voting and presentation of the Triumph International Fashion Award gains around 100% more impressions than any other page in the ranking. On the second place is an article about the movie 'Gladiator', followed by stories about the 'Legendary Chanel Bag', Burberry, Zegna, Film Noir, Erwin Wurm, Women in Film Noir, Basso & Brooke, Vivienne Westwood, Vanessa Beecroft, Raf Simons... In the beauty channels approximately 100% more users are reading the article 'Eternity moment by Calvin Klein' than the second page in the ranking, an article about Givenchy. The beauty-ranking is continued by editorials about Burberry, Vichy, Make Up For Ever, Michael Danler, Guerlain, Wella... On confashion.com, the catwalk TV channel, Philipp Plein is around 50% more read and watched than Puma in the same period.
In the next analysis Fashionoffice will take a view on where the traffic to these pages comes from. The report about the traffic sources will be published in March 2009.
Details about the high-ranking pages are available on fashionoffice.org/survey/2009/pagesused2-2009.htm.


Media information, Fashionoffice:
Feb 2009
Fashionoffice publishes new statistical data about the circulation
From 25 August 2008 to 25 January 2009 Fashionoffice has collected new statistical data about the magazine's circulation by using Google Analytics on a third-party standard server>
Feb 2009
Keywords used by the users to reach Fashionoffice
The Google Analytics results of the keywords used by the users to reach Fashionoffice over the last six months are an indicator for the interest selected themes/labels evoke online>
Jan 2009
Media after the Media Revolution
Fashionoffice is starting 2009 with new tools for editorials and advertising>

Jan 2009
Work Space at Fashionoffice.org
Fashionoffice is seeking for fashion, beauty and culture journalists>
Dec 2008
New Tools for Publishers and Media-Planning
How Fashionoffice.org extends reach>
Dec 2008
The Trendletter, RSS and the mobile site of Fashionoffice.org
Editorial strategies>
Oct 2008
Fashionoffice.org celebrates 12 years top-relevance in 'fashion'
10th anniversary of Google and the search in the oldest available Google-index>