DANCE STYLE
fall/winter 2010/11
beauty by Vivienne Westwood, Clinique
fashion by Vera Wang, Aubade, EthicalSuperstore.com
jewellery by A.E. Köchert
Classical & naughty

By the end of the year, the cocktail and ball season is again a theme in fashion. Fashionoffice collected some pieces that are developed from a classical style but modified with an artful touch.
Like the wild tulip draperies on the dress, the handmade beadings on a fair trade clutch, a stone arrangement that looks like naturally grown on a ring, lip balms in the form of wax crayons, a modern brief inspired by a 19th century French painter's view on Orientalism, and an olfactoric potion 'naughty' by a designer who is known for her cheeky fashion.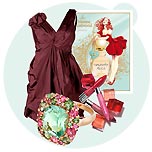 fig. original:
Eau de Parfum 'Naughty Alice' by Vivienne Westwood, illustrated by Maly Siri, released in autumn 2010. Vivienne Westwood's 'Naughty Alice' expresses the British designer's sexy, provocative and fresh style as a perfume with a sensual floral olfactoric bouquet with spicy facets. The flacon is designed to remember a bottle which contains a magical potion. The bracelet with heart pendant gives the hint what for: it looks like a love potion!
Flowerish draped silk cocktail dress in 'oxblood' by Vera Wang, seen at the Viennese shop 2006feb01.com in FW2010/11.
Creamy moisturizing 'Chubby Stick' lip balms in the colors 'Mega Melon', 'Wopping Watermelon', 'Super Strawberry' in the form of wax crayons by Clinique, come into shops in January 2011. Photo: (C) Richard Pierce. All Rights Reserved.
Saint Tropez brief from the 'Beauté d'Ingres' line with floral pattern and bow in front by Aubade, FW2010/11. Photo: (C) Aubade. The line is inspired by the 19th century French painter Jean-Auguste-Dominique Ingres, who has brought his vision of the Oriental world to canvas.
Handmade fair trade beaded clutch bag, seen at EthicalSuperstore.com in FW2010/11.
Colorful, flowerish ring made of quartz, tourmaline, citrine by the Salzburg and Vienna based jeweler A.E. Köchert, seen in FW2010/11. A.E. Köchert was founded in 1814 during the Vienna Congress and became in the 19th century the official jeweler of the Austrian royal family Habsburg-Lothringen. Today - nearly 200 years later, A.E. Köchert is one of Austria's most important creators of high-jewellery. A.E. Köchert is known for interpreting the classical elegant style with a modern, artful touch.



Source: Original article with images on http://www.beautyme.com/fragrance/2010/dancestyle11-2010.htm.


more fashion.at/mobile>
News from
November 2010
October 2010
September 2010
August 2010
July 2010
June 2010
May 2010
April 2010
March - April 2010
January - March 2010


subscribe
terms
imprint
Sawetz (C) 2008/9/10