GLAM STYLE
spring/summer 2010

fashion by Porzia T, Balenciaga, Ciro, Rich & Royal, Giuseppe Zanotti
beauty by Nicole Miller
Beach & party outfit!

Fashionoffice has selected some pieces which are designed for the glamorous look on the beach and summer parties.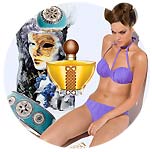 fig.: original beginning with the woman in the...
'Ermione' balconette bra with 'Cassandra' brief in violet from the 'Privata Beachwear' line by the Italian brand 'Porzia T', SS2010.
In September 2008, fashion designer Paola Tessariol has founded the lingerie and accessories label on inspiration of William Shakespeare's 16th century character 'Porzia' from the play 'The Merchant of Venice'. Porzia T shows with a video the style of her lingerie line.
Shakespeare's Porzia expresses for Paola Tessariol a woman who unifies beauty, nobility, passion and pride. In 'The Merchant of Venice', Porzia appears dressed up as a male lawyer in front of the court, where (s)he delivers arguments by following the frame work of the law - regardless if the arguments are unjust - to save a man's life from another man who has shown no will to be merciful, but insisted on a legal and cruel judgement. (Video scene from the 2004 movie with Jeremy Irons and Al Pacino; Lynn Collins plays Porzia.) William Shakespeare represents with the character 'Porzia' women who are taking future in their own hands.
Sunglasses 'BAL 0047' with light metallic frame in blue by Balenciaga, SS2010. It is advised to wear the shades on the beach or at a party in the evening.
Ring and bracelet in ocean blue and breakwater white from the 'Cruise' collection by Ciro, SS2010. Photo: (C) Ciro. The designers of Ciro (founded 1917 in London) had been inspired for this collection by a summer dream of cruising on the sea.
T-shirt in glam-rock style with face print by the German brand 'Rich & Royal', seen at the Viennese shop 'Karin Kasaj', SS2010. Photo: (C) Florian Herzog. The shop 'Karin Kasaj' has sent the advice to wear the t-shirt under a sweater for the sportive look, or to combine it with a blazer for a more classical style.
The website of 'Rich & Royal' is nice. It opens with a fullscreen making-of video for the women's and men's collections; 'Rich & Royal' names them 'Queens Collection' and the 'Kings Collection'. The denim collection is exclusively presented with moving pictures showing a man and a woman up to the middle of the body in their jeans. They are walking into and out of the picture in a living room where luggage stands; a man's black hat becomes an interactive utensil.

'Nicole Miller' fragrance with sexy and warm notes of fresh fruits and feminine florals with contrasting sensual woods by fashion designer Nicole Miller, launched in spring 2010. "With this fragrance I wanted to break away from the conventional and create a new dynamic," remarks Nicole Miller. "I am not about playing it safe. Nor are the women who wear Nicole Miller." The metal Celtic knot on the bottle is inspired by Nicole Miller's apparel prints. Nicole Miller is known for 'nonconformist glamour'. Hollywood stars like Angelina Jolie or Halle Barry wear her outfits.
New York based designer Nicole Miller was trained in fine arts (painting, sculpture) at the Rhode Island School of Design and Ecole de la Chambre Syndicale de la Couture Parisienne (classical techniques of couture). She combines both in her creations which are inspired by cinema, contemporary art, mid-20th century architecture and exotic cultures. Nicole Miller designs even her own, more affordable line 'nicole by Nicole Miller' which is sold in US at JC Penney stores and on www.jcp.com. She actively supports environmental programs like the Rocky Mountain Institute and Robert Kennedy Jr.'s Riverkeeper.

Video: Interview with Nicole Miller in her New York showroom by Voyage.tv, posted on 10 May 2010.
Sandals by Giuseppe Zanotti, seen at Popp & Kretschmer in Vienna, SS2010. Photo: (C) Stefan Baumann. Popp & Kretschmer was founded as a small shop for leather goods in 1889 nearby the Vienna Opera House and was extended in the last decades on the same address to a fashion shop on several floors. Popp & Kretschmer collects glamorous styles by designers like Salvatore Ferragamo, Roberto Cavalli, Herve Leger, Ella Singh, Stuart Weitzman, Rena Lange... to name only a few from an extensive list.

Source: Original article with video and images on http://www.fashionoffice.org/collections/2010/glamstyle6-2010.htm.


more fashion.at/mobile>
News from
April 2010
March - April 2010
January - March 2010
December 2009 - January 2010
December 2009
November - December 2009
September - October 2009
July - August 2009
May - July 2009
April - May 2009
Jan - March 2009
October - December 2008


subscribe
terms
imprint
Sawetz (C) 2008/9/10