GREEN SHOWROOM
19 - 21 January 2011
at Hotel Adlon Kempinski
during Mercedes-Benz Fashion Week Berlin
Green fashion with a touch of luxury

From 19 to 21 January 2011, the Green Showroom, founded by the German designers Magdalena Schaffrin und Jana Keller, organizes once again the presentation of eco-friendly collections with a touch of luxury by fashion, accessories and beauty labels at the Hotel Adlon Kempinski during the Mercedes-Benz Fashion Week in Berlin. It's the fifth time that the Green Showroom exhibits; the third time in Berlin. Additionally to the FW2011/12 collections, which are presented to the press and buyers, the SS2011 collections will be available at the 'Greenshop'.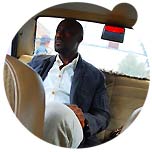 fig.: US drummer/songwriter Charles Lamont Garner in pieces from the 'Living on the Edge Collection' by the German men's wear label 'banuq', founded by Davide Grazioli and Mauro Pavesi in July 2009. The designers are inspired by "contemporary explorers and people on the-move - like we all are – each garment demonstrates a relaxed yet elegant approach to fashion," states the label on banuq.com.
Video: Behind the scenes at the shooting for the campaign of the collection 'Ghost' by Zürich (CH) based label Christina Krämer christinakraemer.com. The graduated fashion designer (University of Applied Sciences in Bielefeld) Christina Krämer will present men's and women's wear during the Green Showroom. The designer combines traditional handcraft with natural and organic materials.

Source: Original article with image and video on http://www.fashionoffice.org/design/2010/greenshowroom12-2010.htm.


more fashion.at/mobile>
News from
November 2010
October 2010
September 2010
August 2010
July 2010
June 2010
May 2010
April 2010
March - April 2010
January - March 2010


subscribe
terms
imprint
Sawetz (C) 2008/9/10