MEN STYLE
fall/winter 2011/12

fashion by Otto Kern, Pierre Cardin, Bench Street
Men 2011: classical, casual, funky, smart
Fashionoffice has previewed men's wear fall/winter 2011/12 already before the runway shows start in mid-January in Milan, Italy.
Three trends are presented on this page:
Classical casuals
Funky styling
Understatement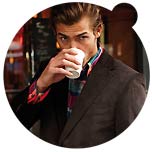 fig. original:
Understatement: Smart look made of luxurious materials
(Photos: brown cord velvet jacket (above), hooded jacket with fur)
The cord velvet jacket and the hooded jacket with fur are pieces from the fall/winter 2011/12 collection by the French label Pierre Cardin. The collection is characterized by 'understatement': the designs are elegant modern - almost unsuspicious, and surprise with 'inner values', which can be found as luxurious linings, new materials like jersey for tailored jackets, sustainable mixes of Australian cotton and wool, and 'Cash-Wool' (a mix of merino wool and cashmere) for knitwear.
Funky styling: Men's wear inspired by street art and music
(Photo: man with scarf)
The picture shows an outfit by the British label Bench Street, FW 2011/2012. Bench's designers are inspired for the collection by the themes street art, music and clubbing. The outfit on this page pays homage to the tribal/tattoo art and indie rock-scene.
Classical casuals: Classical men's wear re-interpreted as casual urban outfits
(Photos: red jacket with hood, man in jeans)
The German label Otto Kern presents for FW2011/12 down jackets in bright colors like the one on this page in fresh red. The jacket is tailored casually to the body. Otto Kern styles it with a red-white checked shirt and a comfortable grey pullover. For jeans, Otto Kern presents the classical 5-pocket denim with a stronger focus on the cut than on decorative elements.

Source: Original article with images on http://www.fashionoffice.org/collections/2010/menstyle12-2010.htm.


more fashion.at/mobile>
News from
December 2010
November 2010October 2010
September 2010
August 2010
July 2010
June 2010
May 2010
April 2010
March - April 2010
January - March 2010


subscribe
terms
imprint
Sawetz (C) 2008/9/10