MOBILE STYLE
spring/summer 2011
fashion by Jockey, Geox, Dirk Bikkembergs
motor by Diesel & Pinarello, Range Rover
beauty by SBT Skin Biology Therapy
Hot or Not
In December 2010, most of the news Fashionoffice has received are about fashion and mobility pieces that are available or dedicated for next year like a new car that appeared as a wire frame for street art installations in Paris, an urban bike that was designed by a fashion label in collaboration with a bicycle specialist, or a calendar 2011 especially for women showing men's underwear items with commentaries about the zodiac signs to find easier 'Mr. Hot' or 'Mr. Not'.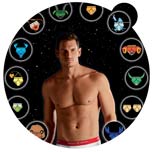 fig. original:
Man in Y-Front briefs by Jockey, surrounded by the 12 star signs from the collaborative horoscope 2011 by Jockey and the Swiss astrologist Barbara Maurer. Jockey contributed underwear styles to the 12 characters of men. It's announced that the horoscope is especially made for women to find out if he is 'Mr. Hot' or 'Mr. Not'.
Fashionoffice has looked through the zodiac calendar and can predict that it will not be easy to decide 'Hot' or 'Not' as each of the various models of the Y-Front shorts looks fashionable. The Y-Front is legendary: in the 1930s it was the first men's brief; Andy Warhol was inspired by the Y-Front for the Rolling Stones album cover 'Sticky Fingers' (1971) that shows a man in jeans - by opening the working zipper, the cotton briefs became visible; or comic character Homer Simpson who wears the Y-Front in the series 'The Simpsons'...
Cell Culture Eye Care serum by SBT Skin Biology Therapy, launched in August 2010. The high-concentrate of caffeine, collagen, hyaluron, and an extract from a sea algae is developed to be used under the daily eye cream. It is an enhanced eye care, which moisturizes the thin skin around the eyes, activates the circulation, and acts against puffiness and dark circles.
Memory textile jacket with patented transpiration system by Geox, SS2011.
Rucksack by Dirk Bikkembergs, SS2011.
Ankle boots from the 'Dune'-line with breathable sole by Geox, SS2011.
Urban bike 'Only the Brave' by Diesel in collaboration with Pinarello, launched in November 2010. 'Only the Brave' is also the name of the holding which unifies labels like Diesel, Maison Martin Margiela, 55DSL,... The 'Only the Brake' bicycle is designed (one gear, light) especially for the city. The bike was launched in November 2010 at the CYCLE MODE Fair in Japan and comes into Diesel and bike-shops in January 2011.
'Evoque' decorated with angel wings by Jean Charles de Castelbajac in September 2010 in Paris; on occasion of the world premiere of the new car 'Range Rover Evoque'. Photo: (C) Range Rover Evoque. The art installation by couturier Jean Charles de Castelbajac was one of four temporary street art installations that were presented from 28 to 30 September 2010 during the Paris Fashion Week. Each of them was built around a wire frame of the new car which will available globally from summer 2011 on.

Source: Original article with images on http://www.fashionoffice.org/motor/2010/mobilestyle12-2010.htm.


more fashion.at/mobile>
News from
November 2010
October 2010
September 2010
August 2010
July 2010
June 2010
May 2010
April 2010
March - April 2010
January - March 2010


subscribe
terms
imprint
Sawetz (C) 2008/9/10