POOLBAR STYLE AWARD 2011
Call for designers/illustrators of t-shirts and bags; closing date: 27 January 2011
Call for designers!
The Austrian 'poolbar style award' calls for designers and illustrators to create stylish t-shirts and bags. Additionally, poolbar is searching for designers to visualize the idea of the music and art festival 'poolbar', which is headquartered in the city Feldkirch in Vorarlberg. The third part of the call is about the visualisation of the Corona-Motto 'Experience the Extraordinary'.
The competition is open to everybody without regional limitation. Closing date is the 27th January 2011; details about the award are published on poolbar.at.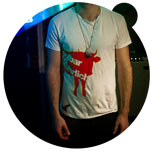 fig original: Member of the Spanish electronic-folk-dance band 'Crystal Fighters' wears the t-shirt 'Dangerous' designed by the Austrian Daniela Preissegger from the poolbar style collection 2010. Photo by Florian Auer, taken after the concert by the 'Crystal Fighters' during the poolbar festival on 21 May 2010 at the Pratersauna in Vienna.
Source: Original article with image on http://www.fashionoffice.org/design/2010/poolbar12-2010.htm.


more fashion.at/mobile>
News from
December 2010
November 2010
October 2010
September 2010
August 2010
July 2010
June 2010
May 2010
April 2010
March - April 2010
January - March 2010


subscribe
terms
imprint
Sawetz (C) 2008/9/10