SNOW STYLE
fall/winter 2010/11

fashion by Alexis Mabille for Pyrenex, Dior, p2, Palladium
beauty by Jil Sander, Paul Mitchell
True savoir faire
Fashionoffice has collected some signature design pieces. Some of them tell stories of contradictions.
Like the jacket that has a fur hood and calls itself 'Bad Fur Jacket' while the designer makes at the same time aware of species-appropriate fur production. Or, the panty in animal print that looks like a boys-brief and is dedicated with the words "for courageous boys" to girls.
Other pieces on this page verify that contradictions are time phenomena - results of Zeitgeist or simply weather conditions.
Such as the shampoo, which is made of an Hawaiian plant from an eco-friendly, sustainable farm. It's the production process that makes the beauty business and eco-consciousness contradicting or not; and not the daily hair and skin care such as hydrophobic poopers wanted to make everybody think.
And sometimes it is only the weather, why the signature design of an airy desert boot is changed into a shoe with warm lining.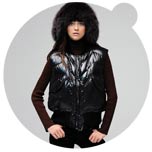 fig. original:
'Black Bad Fur Jacket' by Alexis Mabille for Pyrenex, seen at NJAL notjustalabel.com, where the collection was launched on 8 Dec 2010 with accompanying designer interview.
Alexis Mabille interprets a classical bomber jacket with lacquer-vinyl black material that is filled with down and feathers and equipped with removeable arms and a hood made of 'assured' fur, which means as much as that the fur comes from countries with regulations/standards for the fur production.
Alexis Mabille, who graduated 1997 from the Chambre Syndicale de la Couture Parisienne, is a former student of Ungaro, Nina Ricci and has worked for John Galliano and Hedi Slimane at Christian Dior. In FW2009/10, he was La Redoute's design shooting star with a thrilling evening robe that dramatically changes from a 'male plot' into a female story. (Fashionoffice article: Alexis Mabille for La Redoute FW2009/10)
Sunglasses 'Dior Striking' in sport-glam style, FW2010/11.
'Sensual Jil' eau de toilette by Jil Sander, comes into shops in January 2011. Raf Simons, since 2005 Jil Sander Creative Director, has created for the mysterious-sensual berry-flowerish-patchouli scent a flacon made of the "darkest blue before black," like the designer says.
'Awapuhi Moisturizing Lather Shampoo' by Paul Mitchell, FW2010/11. Photo: (C) nick@nickgillphoto.com. Awapuhi is a Hawaiian plant which fascinated Paul Mitchell and John Paul DeJoria already 30 years before so that they have founded a sustainable Awapuhi farm in Hawaii. Fashionoffice has tested the shampoo. By applying it, a sunny lemon-ginger scent refreshes the soul. As it is a gentle, moisturizing and repairing shampoo, it can be used daily. Hairs are a very individual theme and probably not every user will experience the same. During the test period the hairs feel vital and healthy.
'p2 Jane' girls-panty "for courageous boys" by p2, FW2010/11. Photo: Mario Schmolka (C) p2.
'Pallabrouse' with warm lining by the desert boot label Palladium, FW2010/11.
Source: Original article with images on http://www.beautyme.com/hair/2010/snowstyle12-2010.htm.


more fashion.at/mobile>
News from
November 2010
October 2010
September 2010
August 2010
July 2010
June 2010
May 2010
April 2010
March - April 2010
January - March 2010


subscribe
terms
imprint
Sawetz (C) 2008/9/10