MEN STYLE spring/summer 2010, fall/winter 2010/11
fashion by Bleed Organic Clothing, Evisu, Adidas, Bruno Banani, G-Star
beauty by Replay
lifestyle by Sony
Refreshing water!

Fashionoffice has selected some pieces which are inspired by water and nature such as the green t-shirt by a new brand that proclaims 'nature doesn't have to bleed for fashion!', a fragrance that tells a story of a new technology which interacts with water, or a computer in board sport design.
Refreshing fashion!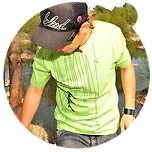 fig.: original beginning with the man in the...
Green t-shirt by Bleed Organic Clothing, SS2010. Photo: (C) Gregory Hejbowicz.
The German label 'Bleed Organic Clothing' (founded 2009 by Michael Spitzbarth) presents under the motto 'Sustainability is not a crime' eco-friendly street- and sports-wear. Sustainability, social fairness, function, and style are the keywords for the designers who are from the board scene (skate, snow, surf). The label's name 'Bleed' comes from the idea that there is no need to let nature bleed for stylish fashion. The label received already a nomination for the Ispo Brand New Award in the category 'Style'.
Jeans from the 'Genes' line by Evisu, FW2010/11. 'Genes' is one of two men's wear lines that will be released for FW2010/11. In 1991, the trained tailor and denim collector Hidehiko Yamane founded Evisu in Osaka, Japan. The label is named after the Buddhist god of prosperity.
'Messenger Smart' from the 'adidas SLVR' brand by Adidas, FW2010/11. The design concept of 'adidas SLVR' is balancing between sports technology, street- and high-fashion.
Swim shorts 'Rebellion' in pop-art inspired green/black check by Bruno Banani, SS2010. Alongside to Hawaii-prints and neo-checks, Bruno Banani presents rebellious metallic printed slogans like 'break the rules'.
'Ruse Scarpa' shoes in blue leather and suede by G-Star, FW2010/11. This season, G-Star presents pieces made of soft Italian leather. Elements such as the combination of leather with suede, visualize the idea of 'raw', which can be found through the whole collection. For G-Star (founded 1989, footwear since 2007), the color accents with tones from the 80s are an experimental debut.
'Refresh' Eau de Cologne for men by Replay, SS2010. A new technology allows to re-activate the head notes of the scent by one water drop. Replay has used this technology already for the 'Your Fragrance!' scents for her and him. With each sold bottle of 'Refresh', 10 liter water will be donated to families in Tansania. The Children's Safe Drinking Water (CSDW) is an initiative of the producer of the fragrance, Procter and Gamble. Since 1995, P&G develops in collaboration with the Center for Disease Control (CDC) safe drinking water systems such as the PUR packet which contains a powder that filters bacteria or parasites out of contaminated water and transforms it into safe drinking water.
'VAIO W Billabong' mini-notebook edition in blue/green/black design 'Imperial Lime' by the board sport brand Billabong for Sony, SS2010.


Source: Original article with images on http://www.fashionoffice.org/collections/2010/watersport6-2010.htm.


more fashion.at/mobile>
News from
April 2010
March - April 2010
January - March 2010
December 2009 - January 2010
December 2009
November - December 2009
September - October 2009
July - August 2009
May - July 2009
April - May 2009
Jan - March 2009
October - December 2008


subscribe
terms
imprint
Sawetz (C) 2008/9/10