WOMEN STYLE
spring/summer 2011

fashion by Peak Performance, Calida, Diesel, Pandora
beauty by Clinique
The fashion rhythm is a time traveler's symphony
Next Spring/Summer, the fashion and beauty rhythm seems to be 'slowed down' by designers once more as they are breaking up traditional time lines like seasons.
Additionally to the practise of bringing passed time with vintage and retro style into fashion, designers increasingly create collections that contain pieces which can be worn over-seasonal.
The SS2011 lookbooks show warm pieces that could come from FW collections and even beauty products like makeup are not strictly terminated to seasons but advised for a look. Only the titles of the lookbooks give a hint about the interval the designers originally worked for.
'Season' is a standard measure for the orientation in time - what designers are developing for a timespan and how long a piece is available that once was designed in a certain timeframe is up to the market - or in other words: it is up to you how long a product is available.
Some pieces of the fashion and beauty industry are top-sellers since nearly 100 years and longer such as the fragrance for Edith Roosevelt, the wife of US president Teddy Roosevelt, created by Creed in 1890, Levi's 201, or Chanel No. 5.

Recently, US First Lady Michelle Obama was seen in vintage couture from the 1950s.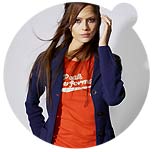 fig. original:
Navy blue cardigan, red t-shirt, denim jeans by Peak Performance, SS2011. The pieces with vintage touch are from the 'Casual Collection' that is inspired by the beach of LA, university and sport culture.
Blue and white colored 'Small Bag' with brown leather by Peak Performance, SS2011.
Pink 'Iced Lotus' blush that is advised by Clinique for bringing freshness to the face, part of the 'Clinique Makeup Statement Spring 2011', available without termination.
Retro inspired bra and brief in red-white with red satin tied bodice element by Calida, SS2011.
Silver-gold bracelet with pink heart charm from the Valentine's collection by Pandora, the Valentine's collection comes into shops in mid-January 2011.
Denim high-heel wedges in washed out look by Diesel, SS2011.
Source: Original article with images on http://www.fashionoffice.org/collections/2010/womenstyle12-2010.htm.


more fashion.at/mobile>
News from
November 2010
October 2010
September 2010
August 2010
July 2010
June 2010
May 2010
April 2010
March - April 2010
January - March 2010


subscribe
terms
imprint
Sawetz (C) 2008/9/10